New Manchester strategy to explore further metro expansion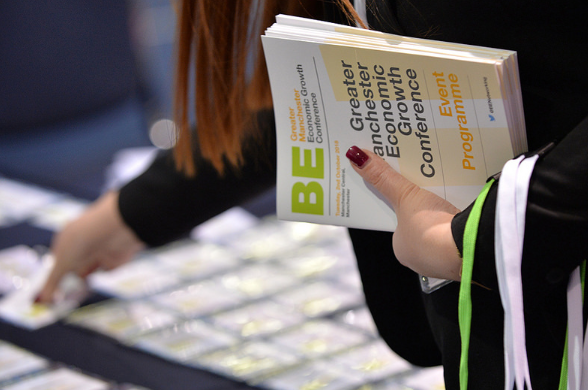 Further developing Greater Manchester's metro system with tram trains will be explored in a soon to be published transport blueprint for the city region. Simon Warburton, Transport Strategy Director at Transport for Greater Manchester, told the Greater Manchester Economic Growth Conference that the body will publish its 30-year plan later this autumn. This will look at the appetite for further developing Greater Manchester's rapid transport system by investing in tram trains, he said.
It will also address how the connectivity can be improved of the conurbation, which is currently structured around radial movements in and out of the city centre. Other issues under the microscope will be ensuring that the whole of Greater Manchester benefit from planned investments in HS2 and Northern Powerhouse Rail, and whether the city centre can accommodate its growth. Warburton said TfGM's thinking is informed by the desire to see mobility as a service, giving travellers different options throughout the day, rather than pigeonholing them as just cyclists or drivers.
And he said that the combined authority's transport body is 'very keen' to capitalise on the new devolved city model proposed by the National Infrastructure Commission.
Steve Cox, Engineering and Technology Director at Electricity North West, said that over the next four years central Manchester will require five major new substations and 20 km of additional cables to keep pace with development. The strain on the city's network will be increased by the anticipated uptake in demand for hybrid and electric vehicles, which he said nearly a quarter of Manchester's residents are considering buying.
Cox said it currently takes up to ten hours to charge a vehicle at home but carbon-ion batteries, which only take four to five minutes to recharge, could be a 'game changing' technology. And the network company is due to be on site 'very shortly' with a £5m project work to double the energy capacity of the airport, he said: "It is absolutely unacceptable that the power capacity will limit the airport's expansion plans."
Cox said the company is studying the 226 fuel stations in M60, each of which will require in £250,000 worth of network costs to replace oil pumps with ultra-fast chargers.
Peter Molyneux, Strategic Roads Director at Transport for the North, said the £2.9bn upgrade of the TransPennine Express will 'significantly' improve that network's capacity and resilience.
But the scheme is just the first step towards broader improvements to the north's rail network, he said: "HS2 will free up a significant amount of freight and passenger transport right across the north by adding a new rail line."
And Northern Powerhouse Rail (NPR), which would see new lines between Manchester and both Leeds and Liverpool, will result in a 40% increase in capacity on the region's network.
Tricia Williams, Chief Operating Officer at Manchester Airport, said that NPR is key for her airport's expansion.
Congestion on the road and railways serving the airport, 80% of whose passengers currently arrive on road via the M56, could constrain its growth, she said.
To cater for this growth, the airport requires a 'massive' modal shift from road to rail.
The construction of NPR would cut journey times from the airport to Chester, Liverpool, Leeds and Sheffield to under half an hour, she said: "I can't emphasise how much it (NPR) will transform the north."
"One of the most important things is to ensure that HS2 and NPR align and that the government commits to funding that much needed infrastructure."
She said the airport has plenty of spare capacity on runways but its terminal cannot handle the anticipated growth in annual passenger numbers to 11m by 2030.
Tim Gamon, regional delivery director at Highways England said the agency is currently developing scheme for Road Priority 2, which will cover its investment programme from 2020 to 2025.
Projects due to start work in March 2020 are a £135m congestion relief scheme on the A585 between Windy Harbour and Skippool, £52.8m improvements to junction 19 of the M6 and a £242m upgrade of west –east Trans-Pennine road links.
But he said that £227m plans to improve access for the Port of Liverpool via the A5036 Princess Way have hit a setback following a court challenge.
Opponents argue that Highways England had not considered tunnelling a section of the road, but Gamon said the £1.5bn cost of a tunnel would not have met the agency's cost benefit analysis. 
He also told delegates that Highways England is 'shortly' due to award contracts for new delivery partners over a six-year framework,
Jo Harrison, asset management director at United Utilities, said that the company faces challenges upgrading its network as a result of population growth. 
She said that large sections of the Haweswater aqueduct, which is the major route for supplying Manchester's water, need to be replaced.
In addition, she said that the company needs to work on changing the behaviour of customers in the north west, which has some of the highest levels of per capita consumption in the UK.
And she said that as a result of the increased risk of flooding due to climate change, the company is looking at providing more sustainable drainage in urban areas.
The chair of the conurbation's Digital Infrastructure Leadership Group said Greater Manchester aims to be at the forefront of 5G roll out with full mobile call and data coverage,
Roger Milburn said the digital infrastructure strategy had also identified as priorities building a world class full fibre connected city region and expanding Wi Fi across all GM towns and city centres.
He said the Greater Manchester Infrastructure Strategy, which has completed its first stage, will focus on six primary areas of physical infrastructure, looking at future demand for electricity, heat, transport, potable water, flood alleviation and waste water