Bridgend – New police training centre planned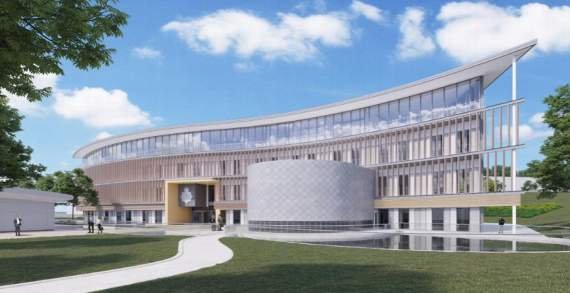 The four-storey police learning centre would be built in Cowbridge Road alongside a human resources building and a two-storey gym, if approved.
Plans were submitted by The Police and Crime Commissioner (PCC) for SWP and said the development would provide the police with their own in-house on-site training and recruitment centre, saving them having to rent accommodation and conference suites elsewhere.
The centre includes provision for an assessments and standards unit, an operations training unit, investigative training, and 'policing through technology' facilities. It also accommodates an office for the PCC and breakout spaces, while a separate building would house a gym. The centre would also have 22 training classrooms and office space for around 200 desks for internal departments across the force.
With this development, 650 additional people are expected to be accommodated per day
There are new access arrangements which are included in the proposals with plans for an improved rear access which forms a junction with Kingsway roundabout and the Chepstow Road. The highway improvement works would include the provision of a pedestrian refuge in Chepstow Road and a footway connection to the site with 340 new parking spaces and cycle parking for 115 bikes.
Work is expected to begin later this month with the aim that the development would become fully operational in 2021 if this is approved.
On September 12, the plans are due to go before Bridgend County Borough Council's development control committee and will go before full council on September 18 for final ratification due to the application being a departure from the local development plan (LDP).
Come and join us at our Blue Light Estates Development Conference where we will be discussing the most exclusive and latest developments from the Police & Fire force >
The site is allocated for 138 homes under the LDP and while this allocation is expected to be removed from the plan under an upcoming review the existing plan is in place for development control purposes until 2021.
The new investment would enable land at Waterton Cross to be released by South Wales Police earlier than anticipated said the Planning officers, making way for the Parc Afon Ewenni development that was first unveiled in 2011 and involves shops and businesses as well as 650 new homes.
A spokesperson for SWP told The GEM: "South Wales Police has one of the largest police estate amongst police forces in terms of the number of police buildings mostly borne out of the historic policing set up with three county police forces merging into one South Wales Police in 1969, much of the estate however had remained unchanged.
"Over the past decade we have sought to halt the decades of decline and deterioration of the police estate (due to lack of funding) by aiming to have fewer, larger and modern police buildings that reflect health, wellbeing and environmental considerations as well as operational and value for money considerations.
"The current training facilities are obsolete and beyond economic repair and following a refresh of the estate strategy in 2017 an improvement programme is underway which brings together seven training areas into one with long-term cost savings. The estate strategy indicates the potential for an annual cost efficiency of £2m through building upgrades, so this new development is essentially an 'invest-to-save' strategy which will be self-financing."
Officers are recommending the application – P/19/140/FUL – for approval.
Come and join us at our Blue Light Estates Development Conference where we will be discussing the most exclusive and latest developments from the Police & Fire force >