Cambridgeshire Development Plans
March 6 @ 1530hrs

-

1900hrs
Guildhall Cambridge,

Market Square,

CB2 3QJ
Cambridgeshire Development Plans | Event
Speakers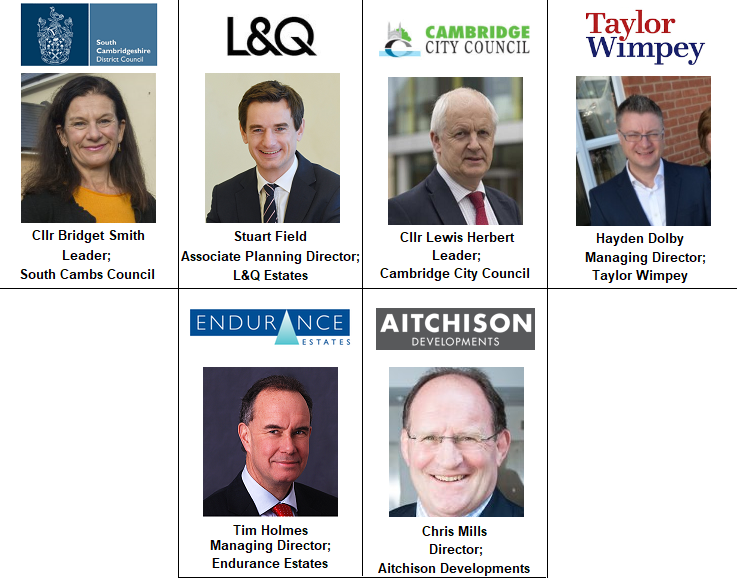 We'll be joined by 180+ business professionals and some fantastic speakers in Cambridge who'll provide an abundance of market intel and outline the development plans for some of the biggest projects set to happen within Cambridgeshire. Major community developments on huge brownfield sites with thousands of homes and new community amenities set to be developed are just some of the discussions and presentations set to be heard.
Conference Sponsorship

VIP Dinner Tickets

A unique opportunity to spend quality time after the event with the speakers. Take discussions about projects and schemes, procurement opportunities and networking with decision makers into a more relaxed and open setting. The evening meal includes a formal discussion around key regional topics in the industry – accompanied by good food, wine and excellent company. Attendees include:
Cllr Bridget Smith – South Cambridgeshire District Council
Cllr Lewis Herbert – Cambridge City Council
Mark Chapman – Taylor Wimpey East Anglia
Tim Holmes – Endurance Estates 
Chris Mills – Aitchison Developments
Stuart Field – L&Q Estates
Other Companies Attending: Balfour Beatty, E.ON, M Scott Property Group, S I Sealy, Arbnco
VIP Dinner Ticket Privileges:
Attendance at the VIP Speakers' Dinner
Attendance at the Evening Conference
VIP name badges
Guaranteed tickets at sold-out events
Maximum of two VIP tickets per company. Only 15 VIP tickets available per event. Dinner venue: Varsity.
Conference Overview
With a booming economy, devolutionary powers and the proposed arc corridor between Cambridge and Oxford there is currently an incredible buzz about Cambridgeshire currently. There are some major employment zones set to be developed around the region which in turn is driving the need to create thousands of homes and new communities. 180+ people will join us for the event to hear about some of those plans and connect with other construction and property professionals with the view of making new connections to help create new work opportunities in the region. Some of those speaking and delivering presentations at the event are:
Cllr Bridget Smith; Leader of South Cambridgeshire District Council. She'll be discussing how crucial the region will be in accelerating housing within Cambridgeshire with ambitious schemes happening on large brownfield sites – creating new towns and communities within the region, whilst discussing the infrastructure and potential developments which will create thousands of jobs.
Cllr Lewis Herbert; Leader of Cambridge City Council. The second local authority joining us will be Cambridge City Council who'll be sharing their development and regeneration plans – from new housing, office and employment space, infrastructure and more – there is a lot going on, and a lot of potential schemes for businesses to get involved in.
Hayden Dolby; Managing Director of Taylor Wimpey East Anglia. A prominent figure in housebuilding across the region, Taylor Wimpey are set to continue their development across Cambridgeshire with thousands of homes in the pipeline and five active sites being worked on currently across key sites including Cambourne and Northstowe. Hayden will share details on their ongoing and future developments.
Tim Holmes; Managing Director of Endurance Estates. The Cherry Hinton scheme in Cambridgeshire will deliver over 1,200 new homes and create another new community in the region – and Endurance Estates, alongside their JV partner Marshall Group, are the ones leading this project forwards. Tim will give an overview of the proposed plans which include new schools, community facilities and a retirement home – whilst sharing information on how firms of all sizes can get involved in the project.
Stuart Field; Associate Development Director at L&Q Estates – formerly Gallagher Estates. L&Q have recently acquired Gallagher Estates and the acquisition comes at an exciting time for the developer with their involvement in many projects across the region including the massive Northstowe scheme. Stuart will share details on this and other projects across Cambridgeshire.
Chris Mills; Director at Aitchison Developments. They have a large commercial development within the region and they'll be talking through their development and future plans.
Additional speakers are set to be confirmed shortly.
Event Format
15:30-16:00 – Registration
16:00-16:45 – Networking with wine, beer and soft drinks
16:45-18:15 – Speaker presentations
18:15-19:00 – Networking with hot food, wine, beer and soft drinks
19:30-22:00 – VIP Speakers' Dinner (VIP Ticket Holders Only)
Cambridgeshire Development Plans | Details