Northamptonshire Development Plans
Tuesday, 21st January 2020 @ 1530hrs

-

1900hrs
Northampton Guildhall,

St Giles' Square,

NN1 1DE
Northamptonshire Development Plans | Event
Northamptonshire and the home counties are flourishing at the present time – with the city region strategically placed to benefit from major construction and infrastructure projects happening across the UK. New towns and cities are being built across the region, connectivity and infrastructure is at the forefront of new schemes, and all of this is building a location where investment and development is booming. Speakers for this event focused on those schemes being brought forward include: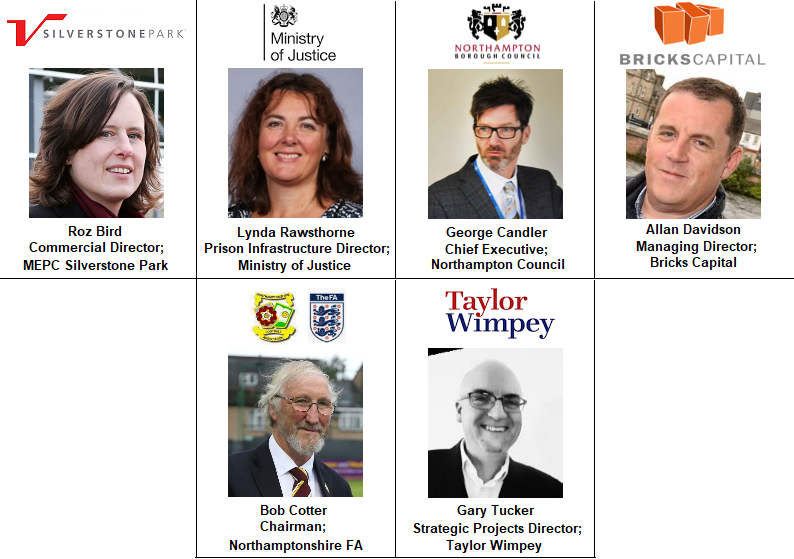 Click here to register and secure your ticket >
MEPC Silverstone Park – the next stage of development has been announced for the park which will include 9 new units – providing a total of 140,000ft sq of industrial and warehouse premises, and Roz will share the full details on their plans and timeframes.
Ministry of Justice – the MOJ are building a major new £250m prison in the region, and as well as sharing on update on the project timeframes Lynda will also cover the future projects including a new prison in Leicester, and expansion to HMP Stocken and more.
Northampton Borough Council – we'll be joined by the Chief Executive who'll outline the ambitions for the region, and where their development priorities lie over the coming years.
Bricks Capital – they're working on a series of hotel developments across the UK and Northamptonshire is seen as a key area for them, and they'll be revealing their future schemes and updating on the Silverstone Hotel.
Taylor Wimpey – we'll hear about the impressive plans Taylor Wimpey have, including their involvement in the West Corby Urban Extensions – where 4,500 homes, 500,000sq ft of employment space and 3 schools are planned over 660-acres.
Northamptonshire FA – The FA is opening a new £2m headquarters and they'll be discussing their project and also the importance of football, pitches and sport across the region in regards to economic growth.
Event Format
1530 – 1600; Registration
1600 – 1645; Networking with Wine, Beer and Soft Drinks
1645 – 1815; Speaker Presentations
1815 – 1900; Networking with Hot Food, Wine, Beer and Soft Drinks
1900 – 2200; VIP Speakers' Dinner (VIP ticket holders only)
Click here to register and secure your ticket >
VIP Speakers' Dinner


A unique opportunity to spend quality time after the event with the speakers. Take discussions about projects and schemes, procurement opportunities and networking with decision makers into a more relaxed and open setting. The evening meal includes a formal discussion around key regional topics in the industry – accompanied by good food, wine and excellent company.
Other Companies Attending: Perfect Circle, Willmott Dixon, FRAME, Princebuild, Newforma, Stantec
Maximum of two VIP tickets per company. Only 15 VIP tickets available per event. Dinner venue: The Old White Hart
Partnership Packages
Northamptonshire Development Plans | Details