Exclusive Interview: Old Oak & Park Royal Opportunities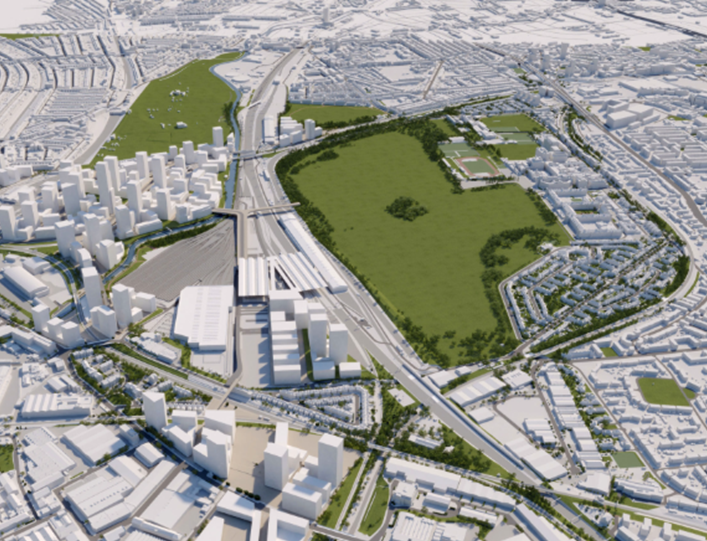 HS2 is set to bring huge regeneration and development to the UK, driving transformational economic growth and unlocking a once in a generation opportunity within some of the UK's major cities and regions.
The HS2 Economic Growth Conference, supported by HS2 Ltd, is set to bring together civic and business leaders who're at the forefront of the biggest infrastructure project the UK has ever undertaken.
Old Oak and Park Royal Development Corporation (OPDC) are one of the companies set to be in the spotlight at the event, as they discuss the huge opportunities surrounding the London Hub in West London along with Imperial College London and SEGRO. The area is set to be transformed through the arrival of both HS2 and the Elizabeth line, creating 25,500 new homes, 65,000 new jobs and contributing £7bn to the UK economy each year.
There is a now a real momentum building for HS2 – but we now need to focus on the vital task of creating new jobs, commercial space, homes and vibrant, exciting communities. The HS2 Economic Growth Conference is set to focus on ensuring we maximise those opportunities as we gather the industry together to collaborate, share best practice and remove potential barriers to economic growth.
Ahead of the conference we hear exclusively with Ajit Atwal, Project Support Officer at Old Oak and Park Royal Development Corporation (OPDC), about the future vision and legacy of HS2, and how important innovative solutions and new technologies will be to unlock and boost growth.
I have been at the OPDC since it was established in April 2015, and fully support and see the vision for the Old Oak and Park Royal area being carefully crafted and planned every day. The ambition is to achieve a new town with high density, mixed-use development schemes, that is built to the highest quality and with the ambition of being sustainable and zero/low carbon efficient. The consideration of a sustainable future is crucial for all regeneration projects and its formal definition is perfect in echoing this: "Development that meets the needs of the present without compromising the ability of future generations to meet their own needs".
Effective placemaking is also part of our ambition as this, with our sustainability objectives, will help to future-proof the area so that it is a place people can thrive in and enjoy for generations to come.
Alongside the HS2 and Elizabeth line investment in the area, additional resources for other public transport streams is important as it will help to enable the introduction and embedding of policies to reduce private car ownership, assisting in the reduction of poor air quality and congestion. Introducing a more attractive public realm, including an appropriate amount of publicly accessible open space and enhancements to the Grand Union Canal and Wormwood Scrubs, will help to enhance the area and contribute towards the creation of a healthier neighbourhood by encouraging the use of more active modes of transport such as walking and cycling.
I believe that our policies within the draft Local Plan that relate to affordable housing (including the appropriate provision of family housing), corresponds to that of the Mayor's vision in the draft London Plan. This includes the target of 50% affordable housing. It remains, in my opinion, the most important policy in need of implementation. As a young adult, born and bred in London, I am very aware of how increasingly difficult it is to get on the property ladder, and as things stand, it doesn't seem to be getting any easier. That's why I feel measures and schemes introduced to help enable Londoners to do so, including initiatives such as the London Living Rent, should be delivered London-wide. As a Mayoral Development Corporation, the OPDC is a key delivery body in achieving the Mayor's ambition as the Opportunity Area is located in zone 2/3 of London. These policies are not only important for current generations but for future generations.
Industrial land in London is being released for other uses at a rapid speed. Yet Industrial land is a key contributor to London's economy and workforce, so it is essential that OPDC preserves it through planning policy. As such, OPDC use the Mayor's Strategic Industrial Land (SIL) policy and apply it to Park Royal, London's largest industrial area. By doing this, our ambition is to ensure it can continue to thrive as an industrial estate. I feel this is an incredibly positive measure for west London and especially Park Royal as it is home to many SMEs and micro-businesses. This policy will play a key role in helping to retain the diverse range of important businesses that serve millions of Londoners from baking bagels, distributing Amazon orders to supplying TV productions with props and costumes.
With regard to the legacy, I foresee the new place being considerate of the area's history, heritage and culture, whilst having it complement future catalyst uses of the area too, whether this be a sports stadium, retail hub, leisure or conference centres, etc. Ensuring that these co-exist and having them accompany each other well will help create a vibrant place for all ages to live, work and play.
Innovation
With technology evolving at an ever-increasing speed and being associated with almost everything we do, I see it being fundamental in the future of Old Oak and Park Royal. Its use can transform the way people travel with innovations such as autonomous vehicles, the way in which houses are built with modular housing and the way in which it can influence sustainable living positively.
Another innovative concept that OPDC is spearheading in Park Royal is the promotion and investigation into industrial intensification. Most of the capital's industrial units are 1-2 storeys, which makes them land hungry. This OPDC initiative to intensify existing industrial units so they can have greater floorspace through additional levels is important, as SIL is constantly in demand. For OPDC to understand the industrial uses and area further, Hawkins/Brown were commissioned, and the outcome led them to win the 'use of new technology in planning' award at the 2018 Planning Awards.
Skills and Education
Personally, I think companies in our industry have a key role to play in promoting the sector as a great and varied place to work in and be a part of. I started my career in 2013 at the Greater London Authority through their Apprentice scheme and subsequently moved over to OPDC, who are now helping with financial support towards tuition fees and allowing me to work compressed hours so that I can attend University one day a week.
I feel the creation of high quality, degree-level apprenticeships within other areas of the field should also be prioritised, such as urban planning, architecture and surveying. This will not only help young people to gain the hands-on experience they need whilst applying it with their theoretical knowledge, but also make strides in changing the misconception of apprenticeships being for those only interested in progressing a career in a trade. Coupled with this, is the role that developers could be playing. During the 2012 London Olympics and Paralympic Games, companies were obligated to fulfil a set number of positions through Apprenticeships and local residents. This brilliant practice is unfortunately rarely seen outside the public sector.
It's been widely reported that there is a skills shortage within the construction sector in the UK and with the significant opportunities for employment across the capital and country with national infrastructure projects like HS2, young people from primary to secondary school need to know the jobs are here for them in these fields. Giving young people the exposure to this sector from an early age, will help give them the time they need to consider it as a potential career and aspiration to achieve the relevant skills and areas of interest.
Tickets for the HS2 Economic Growth Conference start at £97 and are available to purchase here.