How HS2 and the Northern Powerhouse Railway could be the catalyst to reinvigorating Britain's towns and cities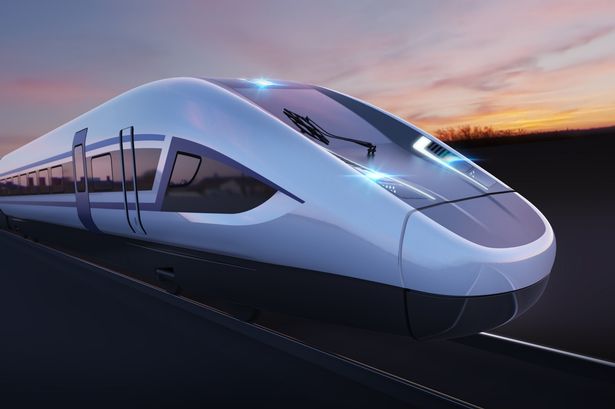 Atkins, the sponsor of our recent HS2 Growth Conference gave us an exclusive insight into the many ways HS2 and The Northern Powerhouse Rail (NPR) will benefit the UK economy.
HS2 and the NPR are more than new railways. They represent new, critical national infrastructure, that can reshape the economic landscape of the UK.  Every station on the route represents a development and regeneration opportunity, presenting an opportunity to work strategically, maximise the value of the investment, and create exciting new spaces and places for people.  Many more stations with no direct HS2 service would also benefit from the improved capacity created by the new railway.   The extra capacity provided by the new high-speed line will create space on the existing network to introduce faster and more frequent services, new direct rail links and reduce crowding.
Liam Harrison, marketing director for stations and transport-orientated development, Mike Gardner, practice manager for architecture in the North, and Colin James, head of urban design and masterplanning, within SNC-Lavalin Atkins' business put forward the case.
With major investment in the nation's infrastructure comes a huge opportunity to do things differently and to do things better. HS2 and the NPR will have the power to positively influence not just rail travel, and not just economic impact, but also the social, financial and environmental fibre of the towns and cities en-route as well as those benefitting from released capacity on the existing network. Traditionally, railway stations were nodes along a railway network. Places where passengers were moved along so that they could get on the next train as quickly as possible. But transportation in the twenty-first century is about so much more than simply moving people around.
Stations can play the role of hubs of economic growth, gateways to a town or city and a symbol if its identity; a place where we, as travellers discovering a new destination, can feel excited about when we arrive. In stations, we now talk much more about 'users', a broader spectrum of people than just 'passengers' – and a spectrum that includes city-dwellers, visitors, tourists as well as commuters and long-distance business travellers. Stations are now being redefined by people, rather than being defined by rail systems.
Redefining the role and purpose of our stations
People, businesses and investors want to inhabit space close to stations.  This is evidenced by the research that shows the demand for commercial space located within 400 metres of a great railway station has the potential to increase its value by up to 30%. And this is where the challenge lies: how do we leverage that value increase to support the transport investments that are essential to modernising our infrastructure.  Within this, is a great opportunity to redefine the role and purpose of our railway stations. To start using them in different ways, to underpin improvements in social and financial infrastructure, and to make them far more pleasurable places to spend time in. To do this to optimum effect requires developing a holistic vision – a master plan. That means looking at the strategic overview of where true value can be created and captured. It means identifying opportunities to work much more collaboratively with operators, owners, national government, regional and sub-regional authorities and local councils to look at how a station should integrate better with existing economic, social and environmental landscapes.
It's important to examine how the value of major infrastructure investments, like HS2 and NPR, can be maximised to benefit the places they connect, impact or influence. By overlaying the different requirements of a station from the first masterplan we can consider if it is an effective transport interchange, if it works efficiently for all users, and encourages a modal shift towards sustainable travel. Stations must work harder to generate greater economic activity – and it's this, the role of railway stations as hubs to help promote economic growth, that is crucial to the HS2 and NPR discussions.
Getting this right will mean all parties benefit. If a local authority can understand the attractiveness of the asset, and the case for development, if the plan can encourage and influence the right type of development and get commercial businesses and landlords to sign-up, it will become a commercial success. We've already seen this in the value uplift created by Crossrail in central London. Once it was announced, developers very quickly picked up on its potential. Almost immediately, they started to build around the stations, long before the line had been built. Because they knew that major investment in infrastructure would create exponential value change in the surrounding area. Leeds is already experiencing similar effects from development in the South Bank being brought forward in eager anticipation of HS2 and NPR.  Birmingham too is experiencing a major injection of investment in and around the new HS2 station site at Curzon Street, and through the transformation of Birmingham New Street.
Investment potential from many more sources
This is highly significant, because bringing in a breadth of stakeholders means investment potential from many more different sources and reducing the need to ask HM Treasury for infrastructure funding at a time when public expenditure is constrained. So, any model must be focused around creating a sensible, strong, and long-term financial platform. One that allows the private sector to get engaged, that allows the local authorities to lead the propositions, that lets the project come together and be more than the sum of its parts. And the model must determine and control how value is curated and captured; so that value can demonstrate the capital and revenue advantages of the programme – and to then drive the investment propositions that act as magnets to attract funding and finance from multiple directions.
Getting this right means configuring the stations in the right way, making strong and purposeful connectivity with the wider urban area beyond, and successfully coalescing all that footfall into commercial development. Obviously, the greatest element to getting this right is good design – to create a holistic view of what that station hub can be, while considering the 'healthy tension' between functional and pleasurable space.
We should ask how we configure that station space in the most efficient way, but also in the most appealing way to people who arrive there or leave from it. There are many retailers that would kill for the footfall that goes through the UK's train stations, but if you can remodel the space effectively, you will be able to bring many inspirational, visionary retailers to it, who can see what retail opportunities there will be in the future. This is backed by the growth in the 'experience economy' – and people who travel by rail taking a photo opportunity, shared across social media, that says 'look at me, I can travel, I can choose to travel, I can afford to travel, I can be where I'd like to be' – there is a place in our stations for experience-based retail. But it's not only about transactional, traditional retail, it's about capturing that spirit, making stations desirable places to be.
Making the station a destination
Retail is just one dimension; similar shaping can be done with food and beverage outlets, leisure facilities, workplace and meeting spaces. When configured in the right way, efficiently, effectively and intelligently, we can transform the station experience and social fabric of our cities and towns.  How long is it going to be before we see car dealerships in the station because people want to touch and feel the stuff they know they can get cheaper from buying on the internet? There's that human connection with the products we buy, that hasn't gone away, it probably never will.
The decision for the UK to invest in HS2 and NPR is momentous. By moving opportunity up the line and connecting people with the brands they want to sample, we will see large-scale, long-term exciting change to our towns, cities and regions. This is transformative change that will rebalance the north-south economies and create new commercial clusters to boost national productivity.