Huge park proposed for Bristol as part of three major new villages on fringes of Bristol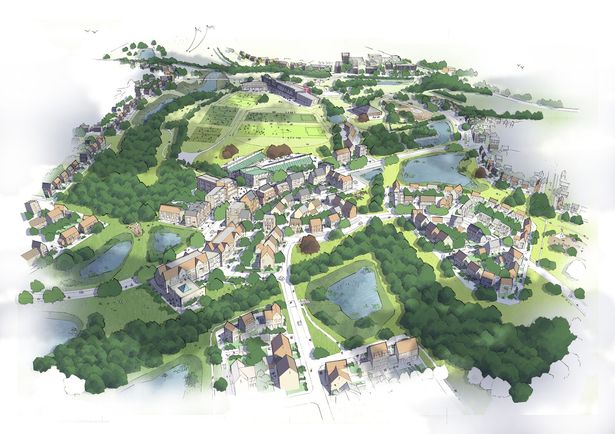 Housing developer Taylor Wimpey are proposing a massive new park on the edge of Bristol – integrated into their plans for three new village developments providing over 4,500 new homes. The proposed plans would see a new park created stretching 360 acres – equivalent to over 200 football pitches – to transform the area into the largest park within North Somerset with an additional 360 acres proposed for development.
Taylor Wimpey, who're set to share details on their development plans within the region at the West of England Economic Growth Conference, will be central to delivering the wider vision for the area, with around 4,500 new homes planned for the other 360 acres of land on the outskirts of Bristol. 'The Vale' would include three new village communities which all feed into and integrated into the park – driving well-being and boosting health benefits for those who would move into the area.
The proposed park would have a mixed of formal parkland with other areas being retained as open countryside with access across existing public rights of way to ensure local wildlife and habitats can continue to thrive – with sport facilities also planned to deliver exceptional amenities for those who'd be moving into 'The Vale' community once completed.
Project Director Gareth Hawke said: "We all know there is a corrosive housing shortage, but – when new communities are being designed and built – it is also vital that there is plenty of green, open space. This has a direct impact on the quality of life for all resident. The Vale is the perfect opportunity to build up to 4,500 much-needed new homes, while setting aside the same amount of land for new parkland and open space. The new park at The Vale would be one of the region's largest parks. It will help create a beautiful environment and will be at the heart of this community. This land is currently almost entirely closed off to the public, but The Vale will open most of it up for the wider community – both existing and new – to share and enjoy."
A planning application has yet to be submitted for the potential development – but it could be a major boost for the local economy and housing targets, especially as it wasn't originally included within the regions Joint Spatial Plan – although North Somerset Council are said to be keen on protecting the current greenfield land. Taylor Wimpey are helping to drive forward the acceleration of housing delivery in the West of England and they'll be sharing details of this and other potential schemes at the West of England Economic Growth Conference.
The West of England Economic Growth Conference will be held on the 11th October 2018 in Bristol. CLICK HERE TO REGISTER FOR THE EVENT.