Tata Steel land deal to unlock 800,000 sq ft of development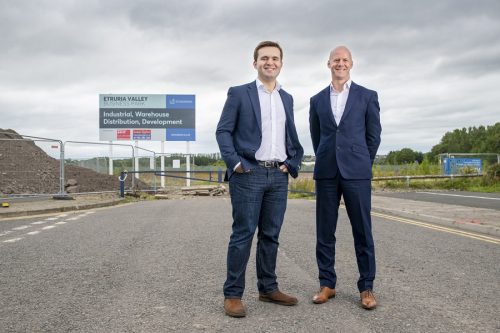 St Modwen has purchased the last 46 acres of land at St Modwen Park Stoke Central – formerly known as Etruria Valley – from Tata Steel. The deal brings a conclusion to agreements made with the steel making company nearly 25 years ago and enables the developer to bring forward a further 800,000 sq ft of industrial/logistics space.
St. Modwen was selected by Stoke-on-Trent City Council to regenerate part of the former Shelton Iron and Steelworks site in 1988, following the 1986 National Garden Festival.
The 165-acre Garden Festival was created after steel production ended at Shelton Works after nearly 140 years in 1978. The festival was a short-term initiative, acting as a catalyst for the long-term regeneration of the derelict land.
The first 165 acres, named Festival Park, were developed by St Modwen, creating a successful mixed-use business park in the heart of Stoke. The remainder of the Shelton Works site continued to be used as a major rolling mill until 2000.
As use of the steel site declined, St. Modwen entered into a joint venture with British Steel in 1996 to regenerate a further 30 acres of redundant steel works land. Following the closure of the rolling mill in 2002, a second agreement was made for the remaining land on the 125-acre site, as an extension of Festival Park.
Come and join us at our Logistics Conference where St. Modwen are set to speak >
The site was originally branded Etruria Valley and is now St Modwen Park Stoke Central. British Steel, which later became Corus, is now part of major international group Tata Steel
St Modwen has successfully developed most of St. Modwen Park Stoke Central and the purchase of the remaining 46 acres from Tata Steel out of the joint venture agreement brings to an end about 180 years of the iron and steel companies' association with the site
"Acquiring the final 46-acres from Tata Steel is significant as it's the culmination of decades of work bringing disused land back to use," said Ian Romano, St Modwen senior director – development.
"The closure of the steelworks in 1978 was a huge blow to thousands of families in Stoke-on-Trent, but through strategic regeneration and working closely with Stoke-on-Trent City Council, we've been able to create a vibrant development that has attracted businesses to the region, creating thousands of employment opportunities across a number of sectors."
Andy Pickford, director of property at Tata Steel, added: "We're pleased to have worked with St. Modwen over the years and to have supported the revitalisation of a major steel works site that ceased to meet current economic demands.
"St Modwen and the council have attracted a number of great businesses to the area and have created more jobs than the steelworks had in its heyday. All credit goes to them for turning this site around."
Councillor Daniel Jellyman, cabinet member for regeneration, infrastructure and heritage at Stoke-on-Trent City Council, said: "The council has been working closely with St. Modwen for more than three decades and it's fantastic they've reached a deal for this important site which has huge potential to regenerate the area and create jobs and growth for our city."
Come and join us at our Logistics Conference where St. Modwen are set to speak >