Wakefield Council; Exclusive Q&A – development plans and economic growth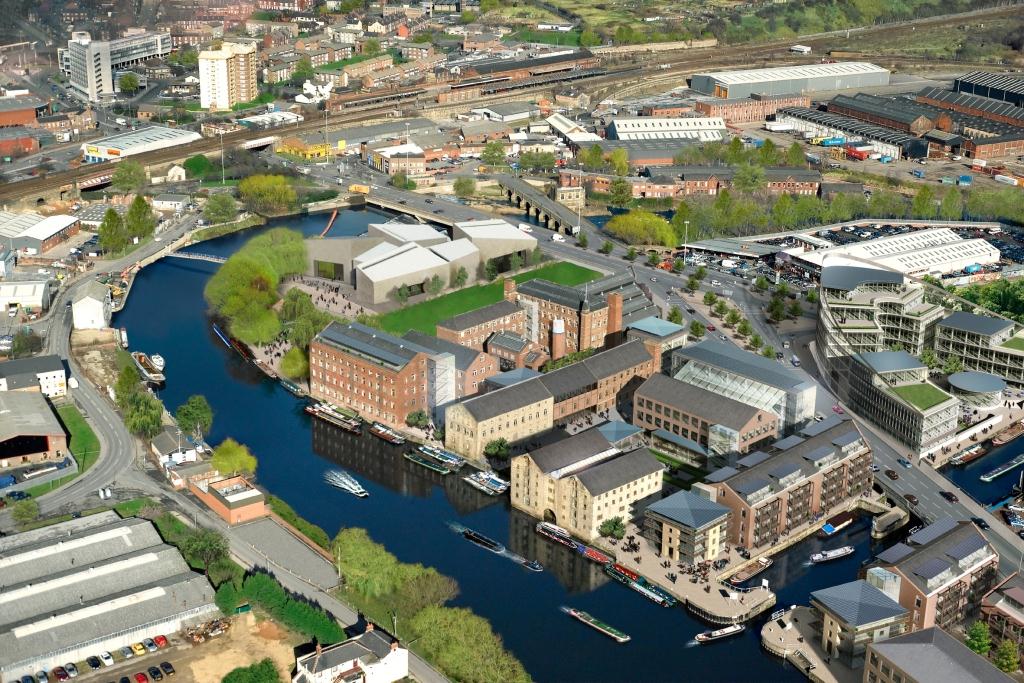 Ahead of the West Yorkshire Development Conference we hear exclusive from Wakefield Council on their need for development and investment partners, how they've become one of the UK's fastest growing cities, information on their proposed Wakefield District Local Plan and more…
Wakefield is one of the key city regions within Yorkshire and it will play a crucial role in the growth expected over the coming years. Tell us a little about the region and its importance to the Yorkshire economy?
Wakefield's is a crucial city in the West Yorkshire region with an economy worth £7bn. The city is one of the most accessible locations in the UK via road, due to it being at the cross section of M1, A1 and M62 and therefore it's strategically placed to naturally attract investment especially through within the manufacturing and logistics sector.
There are several exciting projects ongoing to further support the growth of key sectors which have been identified in our Economic Strategy. In addition, the introduction of our new local plan will aim to attract quality, well paid jobs and employers to our district.
We're planning to adopt the local plan in 2021 – and this will see 280 hectares of additional prime supply employment land being unlocked, supporting our current plan with 189 hectares allocated across 17 sites. Housing is also a key area for Wakefield, and we're looking to deliver 26,000 new homes over the next 19 years.
The cultural and creative assets are another thing which makes Wakefield such an attractive location. From the award winning and internationally renowned Yorkshire Sculpture Park to the Hepworth Wakefield. A large proportion of Wakefield businesses in the creative and cultural sector play a major part in the supply chain for city region businesses. In our economic strategy we aim to grow the sector through projects including a new industry led ecosystem called WX3 which will increase aspirations, skills, enterprise, development and employment across the region.
The city was recently announced as one of the best places to do business – with the tenth fasted growing city economy in the UK. How have you achieved that?
The Council prides itself on developing strong and lasting partnerships. We've established a number of forums where our partners meet to discuss how we as a collective can address some of the challenges we face. Doing so prevents duplication and allows our economy to grow.
We've a pedigree in securing funding from Europe, nationally and from Government agencies and this allows us to accelerate the projects that we see as a priority.
Our planning policy team are exceptional, and our local plan is updated regularly. This works in partnership with our local developers and landlords to ensure we provide the land allocations for strategic growth and future demand.
We like to think of ourselves as a proactive local authority and have an extensive package of support for new and existing businesses. We firmly believe in fostering strong relationships with the businesses already in Wakefield and those looking to invest there. This approach and 'open for business' ethos runs throughout the whole of the council and is heavily supported by our members.
What are the next steps, and how are you going to ensure that growth continues at a sustainable rate?
We'll continue to ensure our planning frameworks are one of the most advanced in the area, and this will help us support businesses who want to invest and grow at the rate in which they require.
We'll continue to play an active role in our Leeds City Region LEP to help shape the regional strategy ensuring Wakefield remains a key player moving forward.
Our economic strategy is a five-year strategy and will continue until 2023, and we'll continue to work with partners to deliver the objectives within it.
We've have already identified those businesses that are experiencing growth and those at risk of job losses through changes in technology and automation and we'll work closely with them to allow us more control and help to maximise the opportunities that arise from changes that businesses face – good or bad.
What are the main challenges Wakefield faces to delivering growth?
Productivity continues to be low, with GVA per worker being the lowest in West Yorkshire, and this is going to be a major focus of the district's economic strategy. In-work training represents a huge opportunity to strengthen the skills base with residents and we'll do this by utilising our excellent relationships with our employers, encouraging them to adopt a policy that will include more social value and upskilling of works.
Another key priority is reducing the levels of poverty that exist (including in work). Wakefield residents are approximately £40 per week worse off than the Y&H average and seen as a social mobility cost spot. The predicted growth of higher skilled jobs across the LCR presents an opportunity to encourage Wakefield's residents to upskill and this is something we're going to be focusing on heavily.
Higher level skills remain a challenge with 25.4% working age population qualified to Level 4. This is 13.9% behind the national average. In our economic strategy, we have a range of interventions to help address this under performance and this include:
A skills pathway, available to all residents to support them to access a learning journey. This will be an inclusive pathway to assist any resident at any stage in their development.
Provision that meets the needs of business. Our HE and FE partners now work in partnership to offer progression routes and qualifications through to Level 7.
Work with employers to innovate and encourage development of their employees, including with large levy payers to make the most of their spend.
The Kirkgate area of the city is an area which is set to be transformed – the train station has already been revamped and The Hepworth Museum is driving tourists into the city, but you have big plans for this area. What else is happening around this area of the city?
Wakefield Kirkgate is a key gateway into both the city centre and to the waterfront regeneration area, which includes the Hepworth Gallery. The area has recently seen the restoration and conversion of the historic Kirkgate Rail Station and the opening of the innovative West Yorkshire History Centre which is also the home to West Yorkshire Archive is also. A £6m highway network was completed last year which will now enable future development of this area also.
Over the last five years we've been acquiring and clearing a number of derelict sites in the area, with Chantry House being the final piece in the jigsaw. This former office building will be demolished this year to make way for a new residential development.
Environmental improvements are also planned which will improve the legibility of the pedestrian routes between Kirkgate Station, the Waterfront and the wider city centre, incorporating green infrastructure and decorative lighting.
Our other key town centre projects include:
Rutland Mills – 100,000 sq ft regeneration of a former mill buildings, which will have uses including hospitality, leisure and creative spaces.
Civic Quarter – with a hotel a leisure complex planned to occupy the former Police Station and Crown Court buildings.
Chantry House and Kirkgate Transport Improvements – this transformational regeneration will support the redeveloped train station and existing Hepworth Galley. These improvements will also create a much better visual entrance to the city and Chantry House will offer city centre living with residential units planned.
The Council are working hard to stimulate more office development in the city centre and they're looking at investment models to help stimulate investment into the office market.
The Northern Powerhouse agenda – providing improved connectivity across Yorkshire and the North West – is gaining momentum more than ever – why is it so importance, and what will the impact will Wakefield see from this?
The vision for Northern Powerhouse Rail is to facilitate a step change in rail connectivity between some of the North's largest cities and this is required to grow opportunities for the next generation of workers and investors. Northern Powerhouse Rail, together with HS2, would transform rail travel across the North, offering much faster, more frequent and reliable rail links and opening up new opportunities for Northern citizens and businesses.
Northern Powerhouse Rail would link the North's six main cities and Manchester Airport, as well as other significant economic centres. It could be developed in stages, making best use of existing rail infrastructure and planned investments – such as HS2 – alongside new railway lines and significant upgrades.
Both NPR and HS2 infrastructure is vital to provide the conditions for enhanced connectivity between northern towns and cities. Better interconnectivity in the north is essentially for us to see the creation of the prosperous, modern economic powerhouse of the north that has the critical mass to drive a wealth of opportunities, a North where companies choose to invest and create jobs, and people choose to live because there is a high quality of life and rising living standards.
Wakefield will benefit from the connections to other towns in Yorkshire and beyond via NPR and HS2, and the increased capacity of the existing rail network the infrastructure will release.
And regarding HS2 – is this just as crucial to the Northern Powerhouse agenda?
Northern Powerhouse Rail and HS2 are both needed to support the vision of a powerhouse for the north.
You're currently working through your 2036 Local Plan – where are you with this currently?
The council is currently working on a submission draft of the Wakefield District Local Plan. The intention is to hold a statutory consultation on this before the end of 2019 and the plan will then have to be submitted to the Planning Inspectorate for Examination in Public in 2020.
Wakefield is already delivering a strong number of new homes each year – how many are in the pipeline, and will modular or offsite play a role in delivering these?
With regards to the pipeline the Councils monitoring system indicates that as of the 31st March 2019 1,519 homes are under construction, 3,617 homes have had full permission but have not started and 1,948 homes have outline permission. Capacity also remains on undeveloped sites allocated in the local development framework for housing. We estimate 7,215 homes can be delivered on these allocated sites.
As part of that Local Plan you'll be identifying strategically placed, brownfield and underdeveloped land to deliver new developments and regeneration across the city region. Is there any key sites that you're actively looking for development and investment partners for to unlock new schemes?
Regeneration colleagues may be able to add more but in terms of brownfield sites I think the key ones in Wakefield are sites such as C6 in the ARGC and the Riverside sites in Wakefield which are allocated in the Local Development Framework. In the emerging Wakefield District Local Plan, a key brownfield site is allocated around Horsefair in Pontefract.
Priority regeneration areas which will require development and investment partners include Knottingley, the Castleford Housing Zone and Pontefract.
The West Yorkshire Development Conference is set to bring together over 300+ public and private sector leaders to discuss and debates the opportunities and challenges to economic growth across West Yorkshire. Why is this an important date in the industry calendar?
This is a great opportunity to share ideas and best practice as well as to showcase the potential within the region for high quality growth and development that achieves successful place-making.