BOHO – An exclusive Q&A from our official partner at the Scotland Development Conference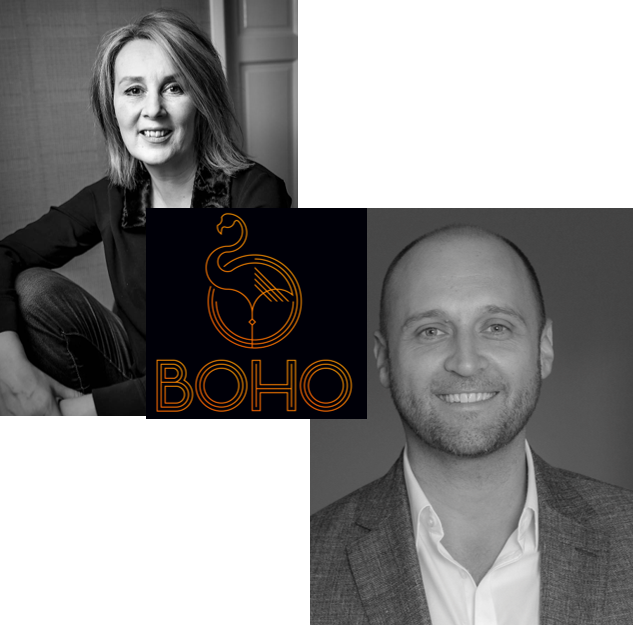 We would like to present this exclusive Q&A from BOHO who are the official partner for the Scotland Development Conference. Find out what the official partners had to say…
Founded in 2013, Structured House Group (shg) has since taken the development marketplace by storm – delivering innovation and entrepreneurship across all their schemes. Tell us a little about the company…
"Structured House Group is a UK development company and investment in Scotland is one of our key ambitions. It's the coming together of years of gathered information and the culmination of a lifetime of experience; it's about bringing the right people together to pull off the "imaginable". It's the old and the new, modern and traditional, thought-provoking, challenging and disrupting. Because we know we're not just building properties; we are creating communities.
Whether there is an opportunity to build for a third party, acquire empty land or rejuvenate old sites – anything is open to discussion. We have recently launched our own in-house property management brand BOHO which means we manage our own assets – whether it is student accommodation, a private rental scheme or hotel. BOHO gives each of our properties its own identity much like the uniqueness of the cities we are in, allowing us to build for the long-term and look after our own spaces and places.
Craig Inglis (CEO Structured House Group & BOHO)
You're keen to hear about land opportunities in urban areas where there is potential to rejuvenate abandoned sites or sites for sale. What would make a site attractive – and is there any cities or towns that you're actively interested in working in?
"We are open to all opportunities in Scotland and the rest of the UK and we have recently moved into the European market. We are keen to enter discussions with both private landowners and local councils as we want to work in partnership with others to invest in our cities, build exceptional properties, and create with people and place in mind, building a future that goes beyond development where people co-live, co-work and co-create.
Be it in new spaces or forgotten locations, we are putting our investment in people, in places, and in cities. When areas become forgotten, communities disperse – people need people, and cities need people to live in them to help them grow and thrive."
Craig Inglis (CEO Structured House Group & BOHO)
What developments do you currently have ongoing or in the pipeline?
"Scotway House along the Clydeside is our first BOHO property and student residence opening in September 2019. It has sold out for the new academic year and will be home to more than 400 students from Scotland, the UK, and the rest of the world. Next in the pipeline is a new PRS build located next to the Clyde and close to Glasgow's International Financial Services District and new rental accommodation planned at the gateway to Merchant City. Following this, we have sites in Dundee including a new hotel and we are in discussions with the Council at Site 17 near the waterfront – both to be operated by BOHO. There is a lot happening in Scotland and the rest of the UK and we also have our sights on expanding into Europe."
Craig Inglis (CEO Structured House Group & BOHO)
Your property management arm of the business – BOHO –  looks quite a creative and bold brand, tell us about the brand 'DNA' and USP?
Come and join us at the Scotland Development Conference which is supported by the Scottish Government, Structured House Group & BOHO >
"We strive to put life and personality into all our properties to create community-led environments where people can get to know each other. Each building is unique and is designed and staffed with the resident and that particular city in mind. We work with local partners and creatives to ensure we are investing in our cities and play our part in contributing further to the local economy and becoming a part of our local communities.
"BOHO's brand identity is the flamingo. Flamingos are social animals who live in a community, there is no hierarchy – they live in harmony with each other. A flamingo stands out in a crowd. This is our logo which represents our brand and ethos.
We want to make life simple for anyone wishing to stay with us whether it be in one of our hotels, rental apartments or student accommodation. A simple booking process, transparent pricing structure and zero deposit rooms/apartments are part of our philosophy. You can live with us in student accommodation then land your graduate job and stay in a BOHO apartment and book a weekend stay in one of our hotels.
Key to our DNA is to create the spaces and places for people to come together to socialise, to chat, to cook, to build relationships with health and wellbeing at the centre of our builds from the very beginning."
– Christine Young (Managing Director at BOHO)
Unlike some firms who just specialise in one sector you've already undertaken many different developments including residential, co-living, student and hotels. How easy is it to ensure your brand DNA is felt across all these different development types?
"We have one website and one simple booking platform across all of our brands: Living, Student and Hotel. It's important that every BOHO building is individually designed – harnessing innovation and creativity, yet residents will always experience the same fantastic customer service and experience no matter where they are. We achieve this from hiring the right people with great personalities to manage our buildings. We also adopted the Real Living Wage model as minimum standard and put safety, health and wellbeing at the forefront of all we do for staff and residents. The BOHO logo is very strong and our cartoon character we use also brings out the fun, quirky and slightly rebellious side of the brand."
– Christine Young (Managing Director at BOHO)
Many talk about placemaking or creating communities but some miss the mark. What does creating communities mean to you, and how do you ensure that it is embedded into your buildings?
"Community is about equality and diversity and celebrating this. We will bring people together by designing flexible communal spaces, putting on regular social events, encouraging a healthy lifestyle, championing positive mental health and wellbeing and working with local partners and businesses to ensure investment in the local economy."
Christine Young (Managing Director at BOHO)
What is the vision for BOHO, where do you see it in 5-10 years' time?
"In the next 5-10 years, BOHO will have multiple locations and become a known brand. Our goal is to challenge the here and now in existing property markets, harness innovation, empower our flock (staff) and be internationally recognised as those people who do a great job.
Also – and this is an exclusive – after receiving various requests from industry colleagues, we are excited to announce that we are also launching an independent property-management arm for developers or investors seeking a company to manage buildings on their behalf. We are at the final stages of the brand design and in discussions with clients."
Christine Young (Managing Director at BOHO)
You're the Official Partner of the Scotland Development Conference – which is also supported by the Scottish Government – which is an event set to bring together the construction and real estate industry to discuss and debate the key subjects to unlock economic growth and drive regeneration and development across the country. Why is this a key date in the industry calendar?
"The breadth of individuals and sectors which will come together to collaborate, share and discuss ideas shows the immeasurable commitment and potential of Scotland's future growth.
Structured House Group secured investment of £500million in 2018 and has grown exponentially in size since the company's incorporation. It's important for businesses like ourselves to meet with industry leaders, elected members, and the Scottish Government to share the good news stories as well as tackle the barriers and obstacles to help drive regeneration and development within our communities."
Craig Inglis (CEO Structured House Group & BOHO)
Come and join us at the Scotland Development Conference which is supported by the Scottish Government, Structured House Group & BOHO >