Call for Leeds not to declare war on car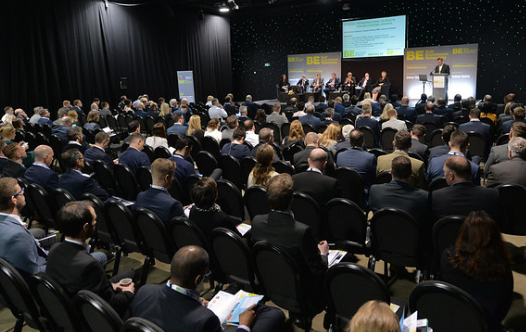 Leeds must avoid declaring war on the motorist as it seeks to curb car use in the city centre, MEPC's Head of Development has warned.
Speaking at our West Yorkshire Development Conference, Paul Pavia said: "You have to do this in a well-researched way. If you start having a war on the car, Leeds will decline as an economy. You have to have strategy that can be gradually implemented and it has to work for the people of Leeds."

Pavia told delegates that MEPC will be providing 1,500 car parking spaces at its Wellington Place development, currently the largest under way in Leeds city centre, but this would only equate to around one for every ten of the approximately 16,000 employees, who will be working at the site when it is complete, he said.
And more good quality inner city housing is required in Leeds to maintain the momentum of the city's development, Pavia said: "Things need to come forward because the city is at a tipping point. We need more people living in the city so they can walk or bike to work. If we don't get that momentum going in the next 12 months, we may miss this cycle and have to wait another three to four years."
In addition, Leeds must become better at attracting would be investors, he said: "Leeds needs to identify more people with patient capital. There's enormous amount of potential to provide long term returns for investors. Manchester unfortunately has been massively successful at that because they understand how our world works."
MEPC is "very keen" to open a dialogue with Leeds City Council about becoming a customer for its district heating service, Pavia added.
Susan Hinchcliffe, Chair of the West Yorkshire Combined Authority, said that delivering projects like Northern Powerhouse Rail (NPR) will require a long-term transport funding deal with the Government.
"We can't do transformational transport change in four years. We need the Government to make patient capital available," she said, adding that with the "right level" of skills and capital investment from government, the region could spend "ten times" the £1bn allocated in its current growth deal.
Besides an interim growth deal for the region, Hinchcliffe said a decision is needed within the next 24 months on the final route for the NPR, which the Bradford Council Leader added must come through her city.
Responding to a question about climate change, she said that concerns about the issue have increased: "It's always been a theme in the background, but it's really come to the fore in the last 12 months."
"The green economy is growing, and we need to get on the programme as soon as possible," she said, giving as an example the jobs that could be created by replacing the high emission boilers in west Yorkshire.
Nevil Muncaster, Director of Asset Management at Yorkshire Water, welcomed moves by the Government and west Yorkshire's local authorities to declare a climate emergency, adding that that rather than building treatment works the company is increasingly focusing on improving water quality through natural measures like peatland restoration.
Peter Dodd, Commercial Director of Welcome to Yorkshire tourism agency, told delegates that the £9bn visitor economy has become the second largest contributor to the county's GDP.
Other spin off benefits include the 62 cycle libraries established across the county in the wake of Yorkshire's successful staging of the Tour de France, giving nearly 80,000 children access to a bike that they didn't have before.
But Yorkshire's booming hospitality sector faced labour shortages as a result of Brexit, he warned: "Lots of our eastern European friends are going home and there will be shortage of British people wanting to do those jobs."
Nicola Turner, Head of Sector Practice at the Office for Students, said that a diminishing proportion of students are moving away from home to take courses, particularly in the north of England.
She said 45% of 316,000 graduates in 2017 never moved, opting to study at a local college or university and then starting work in their local region.
Turner added that Leeds University has introduced continuous development courses, which will provide opportunities for retraining or upskilling in in areas like artificial intelligence, helping to meet demand for digital skills.