Construction Frameworks Conference 2018
Thursday, 13th December 2018 @ 0800hrs

-

1700hrs
The Megacentre, Sheffield,

Bernard Rd,

S2 5BQ
Construction Frameworks Conference 2018 | Event
CONFERENCE OVERVIEW
The Construction Frameworks Conference will discuss and showcase best practice in the UK construction frameworks marketplace. The conference will help clients achieve best value from their procurement, help reduce capital costs, demonstrate best practice across the industry whilst sharing it across sectors, enabling the framework sector to meet relevant clients and potential contacts of interest and put together operators and bidders.
WHO WILL YOU MEET?
Over 200 Delegates & 15 Exhibitors
Major Public Sector Framework Operators
Public Sector Procurement Professionals; including Local and National Government, Universities, Transport, Residential, Blue Light, Healthcare and more
Private Sector Procurement Professionals; including Procurement Consultants, Bid Manager, Software Specialists
Potential Bidders For Frameworks; including Contractors and Consultants
SPEAKERS & PROGRAMME
During the day there will be five conference sessions which will include influential business leaders to discuss:
What Are The Ingredients To A Best In Class Framework; experts bring their expertise and knowledge to the table to share best practice and thought provoking ideas on what creates a best in class framework.
Showcasing World Class Frameworks; presentations from experts within the industry on what makes a world-class framework.
Frameworks To Be Renewed; private sector leaders will share exclusive insights into what frameworks will be renewed over the next 18-24 months.
Frameworks In The Public Sector; decision makers within the public sector will share presentations about their frameworks and details of future renewals.
OVER 20 VIP FRAMEWORK SPEAKERS INCLUDING:

PARTNERSHIP PACKAGES
Associate your brand with the Construction Frameworks Conference and position your brand at the forefront of Framework Operators, Providers, Professionals and Public Sector Leaders at the biggest frameworks focused conference of the year! We have various partnership packages available with benefits including:
Speaking Opportunities
VIP Access & Speaker Access
Exhibition Space
Brand Awareness
And Much More…
Our partnership packages will allow you to address your whole target audience for maximum brand awareness and impact – sparking conversation and allowing you to be there, be active and be an expert within the Frameworks industry as a whole. You'll get VIP access to speakers, the opportunity to connect with them and build strong relationships whilst being at the forefront of the event to heighten your companies trust and the loyalty of key decision makers. Our packages are designed to deliver immeasurable results and inevitable commercial benefits allows you to attract new business, secure commercial deals and unlock a thriving future for your business. Partners for the conference include:

Construction Frameworks Conference 2018 | Programme
09:00-10:00

Breakfast & Registration

10:00-11:00

What are the ingredients of a best in class framework? – Panel Discussion

Experts bring their expertise and knowledge to the table to share best practice and thought-provoking ideas on what creates a best in class framework.

Chair: Keith Hayes,

Framework Director – Procure 22 & Healthcare

, GRAHAM

Kevin Murray, Deputy Director & Head of Property & Construction, Crown Commercial Services
Steve Tyree, Managing Director, Eastern Procurement Consortium
Rod Brasington, Chief Executive, Prosper
Maria Claude Hemming, Director of External Affairs, Civil Engineering Contractors Association

11:00-11:15

Break & Networking

11:15-12:30

Showcasing World Class Frameworks – Presentations

Leading experts share presentations on what a world-class framework looks like, sharing knowledge and best practice within the industry.
Chair: Andrew Parker,

Director of Defence, Morgan Sindall

Sara Lawton, Managing Director, Construction Impact Framework
Simon Toplass, Chief Executive Officer, Pagabo
Aaron, Lacey, Senior Frameworks Manager, Scape Procure

12:30-13:00

Lunch & Networking

13:00-14:15

Frameworks that will be renewed within the next two years – Presentations

Framework providers from across the industry share details on their frameworks which are set to be up for renewal in the coming years, with details on how to get involved and what they're looking for in potential partners.

Chair: Phil Laycock, Director, Built Environment Networking
Steve Tyree, Managing Director, Eastern Procurement Consortium
Maria Claude Hemming, Director of External Affairs, Civil Engineering Contractors Association

Mark Chadwick,

Director of Business Services, Fusion21

14:15-14:30

Break & Networking

14:30-15:45

Frameworks in the Public Sector – Presentations

Framework leaders from various public sector authorities share details on their frameworks, expected work set to come from their frameworks and how firms can get involved as they look to engage with the built environment industry.

Chair: Phil Laycock,

Director, Built Environment Networking

Karen Davenport,

Frameworks Director, BAM Construct

Matthew Gibson, Head of Cost & Contract Management, Sheffield Hallam University
Michael McGill, Category Manager – Construction & Estates, North East Universities Purchasing Consortium
Joanne Peacock; Regional Category Specialist, North East Procurement Organisation (NEPO)

15:45-16:00

Conference Summary & Close
Construction Frameworks Conference 2018 | Exhibition
Exhibitors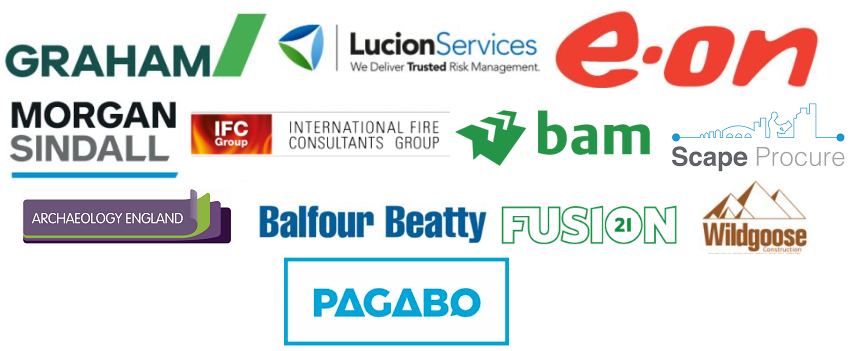 Construction Frameworks Conference 2018 | Attendees
We'll be joined by 200+ delegates at the Construction Frameworks Conference – ensure your brand is part of this unique conference. Attending companies include:
10architect
AECOM
Adept Consulting
AHR Building Consultancy
AM Bid
Amey
Archaeology England
Archaeology Wales
Architecture 519
Atkins
Audas Project Management
Balfour Beatty
BAM Construction
Bardsley Construction
BDP
Bell Munro Consulting
Bond Bryan Architects
Bouygues
Bowdon Group
Built Environment Consulting
Capital Delivery Service
Cartwright Pickard
CITB
Civil Engineering Contractors Association
Clarion Solicitors
Clearwater Associates
Clegg Construction
Construction Impact Framework
Cosentino
Crown Commercial Services
Cundall
Curtins
E.ON
Eastern Procurement Consortium
Elliott Group
Ellis Williams Architects
Engie
Environment Agency
ESH Construction
F Parkinson
Faithful+Gould
Fortem
Fusion 21
Galliford Try
GHD
Graham
Halliday Meecham
Henry Boot Developments
HKA
Hoare Lea
Hobson & Porter
HSP Consulting Engineers
Imtech Engineering Services
International Fire Consultants (IFC Group)
ISG
J Tomlinson
Jackson Civil Engineering
JD Engineering
Kier
Laing O'Rourke
Lancaster University
Leonie Thomas Bid Writing
Lucion Services
MAC Construction Consultants
Mackley Construction
Malcolm Hollis
McLaren Construction
McLaughlin & Harvey
Morgan Sindall
Morris & Spottiswood
NORR Consultants
North East Procurement Organisation
North East Universities Purchasing Consortium
NPS Group
Pagabo
Pegasus Group
Pick Everard
Pochins
Poole Dick
Portakabin
Premier Modular
Procure North West
Prosper
Ramskill Martin
Richard Wood Associates
Rider Levett Bucknall
Ridge & Partners
RizkMcCay
Robertson Group
Rockwool
Rotherham Metropolitan Borough Council
Russells Construction
Scape Procure
Scott Brownrigg
Seddon Construction
Simons Group
Sheffield City Council
Sheffield Hallam University
Shine Bid Services
South Yorkshire Police
Southern Construction Framework
Spring and Co
Stephen George + Partners
Stride Treglown
Styles & Wood
Systra
T.A.D Architects
The Ecology Consultants
Tier Consult UK
Turner & Townsend
VHE Construction
Volker Laser
Waldeck
Wates
Whittam Cox Architects
Wildgoose
Willmott Dixon
Willmott Dixon Interiors
Woodhead Group
WSP
WYG
Construction Frameworks Conference 2018 | Details