Dublin Development Plans 2018
September 12 @ 1530hrs

-

1900hrs
Dublin Development Plans 2018 | Event
Speakers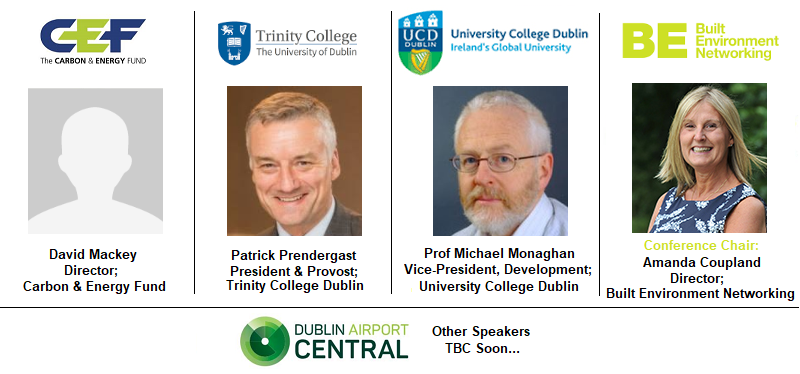 We've a fantastic speaker line-up for the Dublin Development Plans Conference which will see a variety of presentations from public and private sector leaders, we'll hear about exciting development plans and opportunities for you to get involved, and we'll also hear insights into the regional plans and future vision for the country. Some of the presentations will include an overview of Trinity College Dublin's plans to create an Estates Strategy and Masterplan to transform the institution, the University College Dublin's plans for future campus upgrades and developments as they look to entice students and deliver world-class education, the massive opportunities set to come from the Dublin Airport Central expansion and much more.
Conference Sponsorship
VIP Dinner Tickets

A unique opportunity to spend quality time after the event with the speakers. Take discussions about projects and schemes, procurement opportunities and networking with decision makers into a more relaxed and open setting. The evening meal includes a formal discussion around key regional topics in the industry – accompanied by good food, wine and excellent company.
Join the following speakers and companies:
Speakers TBC
Other Companies: Skidmore, Owings & Merrill, HOK Architects
VIP Dinner Ticket Privileges:
Attendance at the VIP Speakers Dinner
Attendance at the Evening Conference
VIP name badges
Guaranteed tickets at sold-out events
Maximum of two VIP tickets per company. Only 15 VIP tickets available per event. Dinner venue TBC.
Conference Overview
We're excited for our first event in Dublin.  We're excited to be joined at the event by the following speakers:
Patrick Prendergast; President & Provost at Trinity College Dublin. Patrick will share an overview of his role in the University's planning and development of the University's buildings and sites whilst sharing details on future opportunities for delegates to get involved in projects. They're currently in the middle of developing an Estates Strategy and Master Plan for the College with plenty of exciting plans set to come from that.
Professor Michael Monaghan; Vice President for Development at University College Dublin. With a significant portfolio of land and properties the University College Dublin will be sharing an overview of ongoing and future developments as they look to entice new students to the City University and provide world-class education in current and new courses. With over 80 buildings currently their campuses are always evolving and they will continue to do so along with the University's goals.
Speaker TBC from Dublin Airport Central.
David Mackey; Director at The Carbon & Energy Fund. The CEFI is an organisation specifically created to fund, facilitate and project manage complex energy infrastructure upgrades within the Irish health economy and the wider Public Sector and they'll be talking about their role and how companies can get involved.
We hope to be in a position to confirm additional speakers soon.
Event Format
1530 – 1600; Registration
1600 – 1645; Networking with Wine, Beer and Soft Drinks
1645 – 1815; Speaker Presentations
1815 – 1900; Networking with Hot Food, Wine, Beer and Soft Drinks
1930 – 2200; After Event Speakers Dinner (VIP TICKET HOLDERS ONLY)
Dublin Development Plans 2018 | Details