Oxford Future Development Plans
April 29 @ 1530hrs

-

1900hrs
The Town Hall, Oxford,

St Aldate's,

OX1 1BX
Oxford Future Development Plans | Event
We'll be joined by over 150 construction and property professionals in Oxford for our next conference – where we're set to hear about major new developments happening across the city and surrounding region, alongside hours of networking time enabling you to make new commercially rewarding connections. Topics set to be discussed by our speakers include:
Major developer First Base are actively looking at development sites in the region and will be looking to engage with the full supply chain.
The huge estate masterplan for University of Oxford will be a key discussion – with future projects planned and a carbon efficient and sustainable approach being taken.
1,200 homes are in the pipeline for Blenheim Estate and they're looking to meet local SME's and major developers who can help them deliver their ambitious plans.
Fresh information on the County Council's vision and the massive pockets of land they're looking to unlock for development.
Insight into how OXLEP, Oxford City and Cherwell Council's will aid growth across the county – and exclusive info on how you can work alongside them to deliver new projects.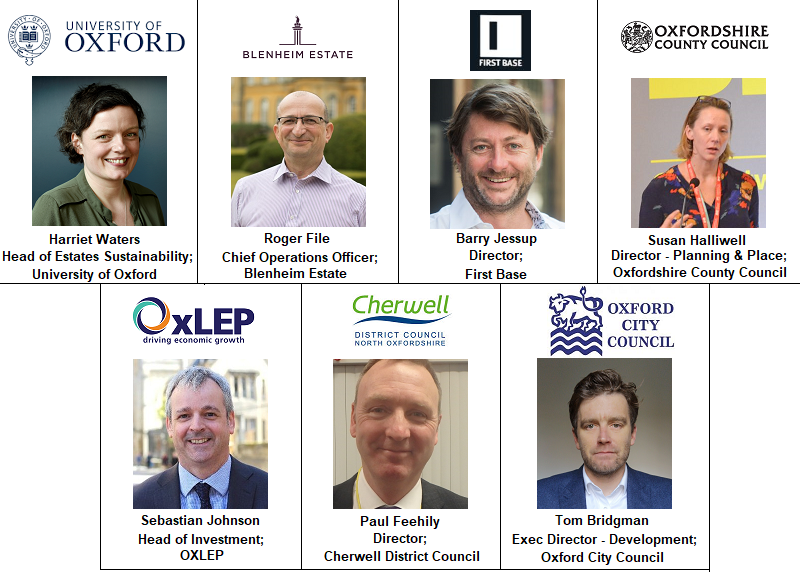 VIP Dinner Tickets

A unique opportunity to spend quality time after the event with the speakers. Take discussions about projects and schemes, procurement opportunities and networking with decision makers into a more relaxed and open setting. The evening meal includes a formal discussion around key regional topics in the industry – accompanied by good food, wine and excellent company. Attending dinner are:
Blenheim Estates – Roger File, Chief Operations Officer
University of Oxford – Harriet Waters, Head of Estates Sustainability
Oxfordshire County Council – Sue Haliwell, Director – Planning & Place
Oxford City Council – Tom Bridgman, Executive Director – Development
Oxfordshire LEP – Sebastian Johnson, Head of Investment
Cherwell District Council – Paul Feehily, Director
Other Companies Attending: Balfour Beatty, Make Architects, Gallagher, Gardiner & Theobald, SOM, Hurley Palmer Flatt, Hilson Moran, Border Archaeology, Perfect Circle, Winckworth Sherwood, Temple Group, Robin Swailes Design & Development, HOP Homes
VIP Dinner Ticket Privileges:
Attendance at the VIP Speakers' Dinner
Attendance at the Evening Conference
VIP name badges
Guaranteed tickets at sold-out events
Maximum of two VIP tickets per company. Only 15 VIP tickets available per event. Dinner venue: Old Bank Hotel

Conference Overview
Oxfordshire's economy continues to grow – and to keep the trend going a vast amount of development and regeneration needs to continue across the region. The Oxford-Cambridge ARC Corridor also poses a once-in-a-generation opportunity for phenomenal growth, with the major infrastructure project set to drive even further growth – but a collaborative approach will be crucial to ensuring the opportunities are maximised, and this event offers a great opportunity to meet those who're within the industry and at the forefront of those schemes. The speakers will be sharing details of some of those schemes, with speakers including:
Roger File; Chief Operations Officer and Development Director at Blenheim Estate. Major landowners for more than three centuries Blenheim Estates are going through an exciting period as they continue to create thriving communities and new homes for people for now and the future. Roger will share details of their ongoing developments and the future vision for the estate.
Barry Jessup; Director at First Base. The major developer have some exciting schemes across the UK – and they have a keen interest to increase their work within Oxfordshire, especially with the proposed Oxford-Cambridge corridor driving economic growth, development and regeneration across the region, and Barry will talk about their potential schemes in the region.
Harriet Waters; Head of Estates Sustainability at the University of Oxford. The University of Oxford launched their Strategic Plan 2018-2023 last year with a substantial development programme and Harriet will provide an update on their progress to date as well as demonstrating how they are developing their current estate to be more sustainable and current.
Susan Halliwell; Director of Planning and Place at Oxfordshire County Council. The masses of development being touted for Oxfordshire need to be managed sustainability and Susan will share details on how they'll be looking to unlock fresh development zones and the opportunities available across the region.
Sebastian Johnson; Head of Investment & Innovation at OXLEP. He'll be sharing details on the approach OXLEP are taking to driving investment and development in the region, key focus sectors and opportunities they see for growth.
We expect to be in a position to announce additional speakers shortly.
Event Format
1530 – 1600; Registration
1600 – 1645; Networking with Wine, Beer and Soft Drinks
1645 – 1815; Speaker Presentations
1815 – 1900; Networking with Hot Food, Wine, Beer and Soft Drinks
1930 – 2200; After-Event Speakers' Dinner (VIP Ticket Holders Only)
Oxford Future Development Plans | Details