Smart Cities Development Conference 2019
February 6 @ 0800hrs

-

1615hrs
The Kings Centre, Oxford,

Osney Mead,

OX2 0ES
Smart Cities Development Conference 2019 | Event
CONFERENCE OVERVIEW
The Smart Cities Development Conference is set to bring public and private sector leaders from across the built environment industry to look at how we can work together to ensure development and regeneration happening across our city regions are smart, sustainable and contribute further to the economic growth of the UK. Through a series of keynotes, panel discussions and development plan presentations we'll delve into innovative schemes and developments which have happened to learn best practice, whilst hearing about the future vision and projects which are set to happen and how they'll help shape the future of development happening. The conference will help the industry align on the key areas of focus whilst connecting leaders and decision makers with the industry to drive smart development in the UK.
IT'S A MUST ATTEND CONFERENCE!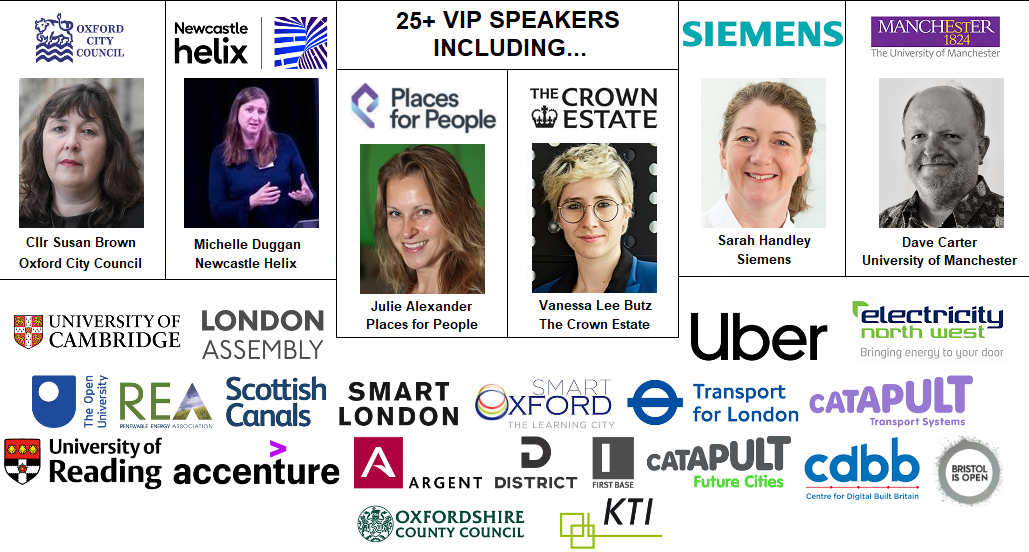 The conference will see:
200+ Delegates.
30+ VIP Speakers.
15+ Exhibitors.
PROGRAMME & SPEAKERS
Alongside plenty of time to network with industry professional we'll be hearing from some of the key decision makers and leaders from across public and private sector firms who're at the forefront of developments across the UK's cities to integrate smart technologies and solutions. We'll be hearing keynote speakers to outline the key focuses and challenges our industry needs to front up to, which leads onto panel discussions and debates, with audience involvement through Q&A, to get exclusive insights, thoughts and information on what they're doing within their regions and developments.
We'll then watch presentations delivered on key topics within the built environment smart cities agenda such as transport and infrastructure, smart energy and low carbon developments, universities, digital and data connectivity and major sustainable developments – followed by an audience led Q&A with the view of learning about potential new schemes, procurement and development partner opportunities, exclusive insight and learnings and more.
Smart Cities Development Conference 2019 | Programme
08:00-08:50

Breakfast & Networking

08:50-09:00

Conference Welcome

After a morning of networking, guests will be asked to take a seat before being welcomed to the event – helping set the agenda and tone for the event. Opening the conference will be:
Susan Brown; Leader, Oxford City Council

09:00-09:30

Keynote Speakers

Senior figures championing the development of smart cities from across the public and private sector set the tone for the event and share their insight.

Nicola Yates; CEO, Future Cities Catapult

09:30-10:30

Smart Cities – what does it mean for the development sector? – Panel Debate

A panel discussion focused on uncovering exclusive insights, thought-provoking discussion and the sharing of best practice and knowledge amongst key industry leaders – with audience Q&A and interaction.

Chair: TBC

Crown Estate & District Technologies –

Vanessa Lee Butz, Chief Executive Officer

First Base –

Barry Jessup, Director

Greater London Authority/Smart London –

Jen Hawes-Hewitt, Global Cities Lead

Bristol is Open – Julie Snell, Managing Director

10:30-11:00

Break & Networking

11:00-12:00

Transportation & Infrastructure – Presentations

Those behind major smart cities infrastructure projects and schemes will share their ambitious plans for both physical and digital connectivity and how they'll contribute to future development through a series of presentations.

Chair: Llewelyn Morgan, Head of Innovation, Oxfordshire County Council

Scottish Canals –

Catherine Topley, Chief Executive Officer

Transport Systems Catapult – Paul Campion, Chief Executive Officer
Uber – James Kelly, Head of Cities

12:00-12:45

Lunch & Networking

12:45-13:45

Digital Connectivity & Sustainable Energy Developments – Presentations

Presentations around the future opportunities provided by two realms – data/digital connectivity and sustainable energy and low carbon – which will be key to developments within smart cities.

Chair: Darren Gardner; Strategic Account Manager, E.ON

Oxfordshire County Council & Oxford City Council – Tony Hart, Head of Smart Oxford

Electricity North West –

Steve Cox, Engineering & Technical Director

Siemens –

Sarah Handley, Carbon Neutral Director

Renewable Energy Association –

Dr Nina Skorupska CBE FEI, Chief Executive

13:45-14:00

Break & Networking

14:00-15:00

The Role of Universities Within Smart Cities – Presentations

Higher education institutions will share presentations on how they'll be integral to the development of our future smart cities and how they'll be tailoring and growing their estates to contribute.

Chair: Michelle Duggan; Partnership Manager, Newcastle Helix

University of Cambridge – Alexandra Bolton, Director

University of Reading –

Professor Tim Dixon

University of Manchester –

Professor Dave Carter

Open University –

Alan Fletcher, Director

15:00-16:00

Sustainable Developments – Presentations

Presentations from leading developers who're leading the way in terms of sustainable developments and setting future schemes up to integrate into smart cities.

Chair: Phil Laycock; Director, Built Environment Networking

Newcastle Helix/Newcastle University –

Michelle Duggan, Partnership Manager

Argent –

Andre Gibbs, Partner

Transport for London –

Peter Elliott, Head of Property Development

Places for People –

Julie Alexander; Director of Technology and Innovation

16:00 – 16:15

Conference Summary & Close
Smart Cities Development Conference 2019 | Exhibition
This unique conference will bring together the public and private sector to facilitate discussions and connections to try and drive and accelerate the delivery of growth within Smart Cities. There will be plenty of exhibitors showcasing their brand and best practice in the industry, whilst helping them reap the rewards of being prominently displayed within the events exhibition area in front of some key and influential business leaders.

Exhibiting will allow you to:
Meet 400+ delegates face to face
Be part of the inaugural Smart Cities Development Conference
Be known as a market leader within the region
Network with hundreds of your business clients and peers
Showcase your work to Regional Authorities, Government, leading private sector firms and more

If you're interested in exhibiting at the conference then get in touch with our team – with space available for standard exhibition stalls or larger spaces to showcase more of your brand and create an eye catching area contact:
Email: keith.griffiths@built-environment-networking.com
Exhibitors:

Smart Cities Development Conference 2019 | Attendees
Come and join us at the Smart Cities Development Conference – one of the must-attend events in the smart cities agenda this year! Some of the companies attending include:
ABB
Accenture
Adrian James Architects
Arcadis
Argent
ARUP
Ashfords
Associated British Ports
Athene Communications
Atkins
Babcock
Balfour Beatty
Barton Willmore
Baxi Heating
BDP
Be First – London Borough of Barking & Dagenham
Bennetts Associates
Benoy
Bevan Brittan
Bidwells
Blackstone Property
Bouygues Energies & Services
Bradshaw Gass & Hope
Bracknell Forest Borough Council
Brand Vista
Bristol is Open
Bromwich Hardy
Browne Jacobson
Bruntwood
BSI Group
BT
Build Energy
BWB Consulting
Camelot Europe
Camelot Real Estate
Cartezia & AcceleratorIndia Ltd
Centre for Digital Built Britain
CGI
Cirrus Land
CITB
CityFibre
Cityscape
Clarkslegal
Colas
Cratus Communications
Crown Estate
Cundall
District Technologies
E.ON
Eco-Res
EcoWorld London
Electric Corby
Electricity North West
Elysian Ark
Engie
Escape the Labyrinth
Fieldfisher
First Base
Future Cities Catapult
Gensler Europe
GRAHAM
Greater London Authority (GLA)
Greengage Environmental
GVA
HKS Architects
Hoare Lea
HOK
HSP Consulting
Hyperoptic
IBI Group
IFC Group
Infracapital
Integrated Environmental Solutions
Knight Frank
KTI
LDA Design
Lendlease
Lewis Silkin
Mace
Mackley Construction
Midas Group
Mills & Reeve
MOLA Museum of London Archaeology
National Federation of Builders
NEC
Newcastle Helix
NPS Group
Nujanlie
Open University
Openreach
Oxford City Council
Oxfordshire County Council
Oxford Mail
Oxford Technology & Media
Pagabo
PBA now part of Stantec
PCSG
Pennington Manches
PJA
Placemarque
Places for People
Plena Consulting
Plowman Craven
Plymouth City Council
PTS Consulting
QODA Consulting
Queensberry
Renewable Energy Association
RICS
Rider Levett Bucknall
RizkMcCay
Saiid Business School
Savills
Scott Brownrigg
Scottish Canals
SEGRO
Severn Trent Water
Siemens
Skanska
Smart London
Smart Oxford
Smith & Williamson
SOM
Spacecraft Consulting
Spie UK
SSE Enterprise
St Wulstands Canalside RTM
Stride Treglown
Swan Housing
The Duchy of Cornwall
Tony Hart Associates
Toolbox Group
Transport for London
Transport Systems Catapult
U+I Group
Uber
University of Cambridge
University of Manchester
University of Newcastle
University of Oxford
University of Reading
Urban Growth Company
Vectos
VolkerSmartTechnology
VU City
WISE Campaign
Wood
Woods Bagot
WSP
Zaha Hadid Architects
Smart Cities Development Conference 2019 | Details