Five garden towns proposed within Oxford Cambridge corridor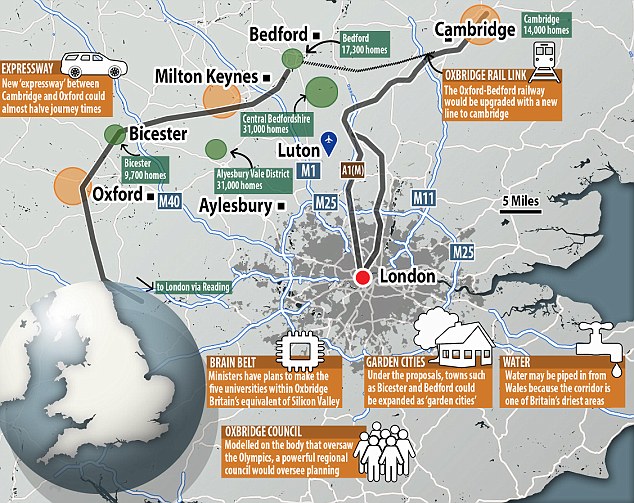 The Oxford – Milton Keynes – Cambridge corridor could see five new garden towns created in a bid to create thousands of homes in the growth region. The area, set for improved connectivity by road and rail which is set to create huge regional economic benefits, is likely to see a huge increase in population of the coming years and the proposed garden towns would be a huge boost to reaching the required housing numbers.
The plans for the region are set to be discussed by regional authorities, governing bodies and private sector companies at the Oxford Cambridge Corridor Economic Growth Conference in June – where housing is set to be a huge focus.
Sajid Javid, Housing Secretary, announce the proposals as he looks to introduce tough new laws in a bid to get councils building more homes as a 'housing revolution' draws closer. On Monday he'll unveiled a new version of the National Planning Policy Framework in a bid to force councils to build more homes, which will also highlight how many new homes councils should be building a year – and there may be rights stripped from councils if they don't meet those targets.
He said that he'll be giving the greenlight to two new towns in the coming weeks and may push for up to three more, in news that comes off the back of funding being agreed for a high-speed rail line as well as an expressway for cars between the two University towns which would almost halve journey times.
The need for new homes within the UK has been a constant focus of politics for the last few years. A total of 217,000 new homes were built last year which is more than double the total for 2010 – but it's still below the government's 2025 target of building 300,000 a year.
Mr Javid said of the plans: "Along the corridor there is an opportunity to build at least four or five garden towns and villages with thousands of homes. We have a housing crisis in this country with average house prices being eight times that of the average household earnings. In London, where there is the most acute shortage, it is around 15 times average earnings. That's not just the worse we have had in England, it's the worst of any major developed economy."
The news comes as another huge boost for the region – and we'll be hearing more at the Oxford Cambridge Corridor Economic Growth Conference – so join us there.