Making HS2 work for everyone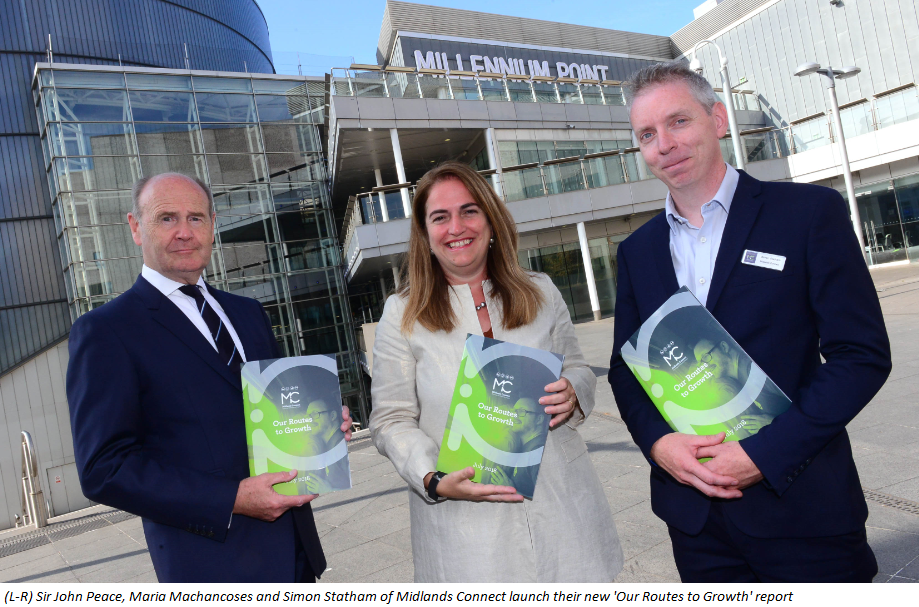 Maria Machancoses of Midlands Connect is set to join us at the HS2 Economic Growth Conference in November – an event supported by HS2 Ltd which will bring together civic and business leaders from across every region of the UK to drive and maximise economic growth opportunities presented by the arrival of HS2 to our cities and regions. We hear from Maria ahead of the conference:
At the height of our record breaking summer, I stood in front of more than 200 people at Millennium Point in Birmingham, overlooking the construction site of the new HS2 station at Curzon Street, and launched Midlands Connect's latest report, Our Routes to Growth.
It's no coincidence that we launched the report in Birmingham's Eastside; this once neglected part of the city centre is now fizzing with investment and opportunity, with the anticipation of HS2 driving much of its renaissance.
The announcement and early construction of HS2 have already helped to bring thousands of jobs to Birmingham; the cranes piercing the city's skyline are testament to a renewed optimism about the Midland's future prospects. PwC has made its biggest ever investment outside London with new flagship premises in the Paradise development, spurred on by the unprecedented connectivity HS2 brings with it. HSBC has brought its retail headquarters with 2,000 staff to Broad Street. And close to the site of the HS2 Interchange station near Birmingham Airport, Interserve has built a futuristic new office complex for 1,400 employees.
Growth around HS2's dedicated stations is already undeniable. But how do we make sure that the economic benefits are felt in the other cities across the Midlands – Stoke-on-Trent, Hereford, Worcester, Wolverhampton, Leicester, Coventry, Nottingham, Lichfield, Derby and Lincoln – ready to benefit from the prosperity that comes with better connectivity? This is where Midlands Connect comes in.
Sharing the wealth
Widening access to HS2's affordable rapid mass transit services, and ensuring complimentary infrastructure around HS2 stations to maximise economic growth, are amongst Midlands Connect's top priorities. We're also determined to make sure that expanding services on the existing network compliment new HS2 trains. With the right planning, the possibilities for economic growth are almost endless.
Professional services jobs are powering the Midlands economy, and with it, the demand for rail travel to access those jobs is growing. I see this for myself almost every day as I travel around the region. But, at peak times, there are more people travelling on trains than there are seats for them to sit in, with Birmingham having some of the most crowded morning commuter services in the country. There are a growing number of disgruntled social media accounts which attest to that.
New HS2 services will help relieve some of this pressure, but it must go hand in hand with increasing capacity on the local and regional network. That's where our Midlands Rail Hub proposals come in. With a few strategic interventions, like new track and passing places, improved junctions and signals, longer platforms and some minor electrification, we can boost capacity and attract 6 million new passengers each year. 36 new freight paths through the Midlands will also shift the equivalent of 4,320 lorries from road to rail each day.
Investing in this new infrastructure will add 24 new passenger services every hour, with faster and more frequent trains bringing the East and West Midlands much closer together.
Many of these new, faster services could terminate at Birmingham Moor Street, which will share a concourse with HS2 at Curzon Street, allowing passengers from Herefordshire and Worcestershire, the South West of England and South Wales to access HS2 services which would otherwise be inaccessible for them.
But the biggest prize of all is the economic one. The Midlands Rail Hub could boost the UK economy by £649 million every year, by allowing the East and West Midlands to operate more closely as a single economic power.  Transport planners might invoke the often-used, but little understood term "agglomeration", but the concept is simple; if you make it easier for people and businesses to come together, good things will happen.
The Midlands Rail Hub brings 1.6 million more people within an hour's travel time of our major towns and cities, massively increasing access to jobs. It should be possible for towns and cities less than 50 miles apart to be commutable. In many cases, the Midlands Rail Hub will make that vision a reality.
HS2 has its own transformational role to play in widening the pool of skills for businesses to draw upon, of course. That's why we must make it as easy as possible for people to access the six Midlands stations serving the new network – the dedicated stations of Curzon Street, Interchange and Toton, alongside the existing stations the government has committed to running HS2 services through at Stafford, Stoke-on-Trent and Chesterfield.
East Midlands acceleration
A lot of work is already being done by Transport for West Midlands to ensure a "One Station" approach in Birmingham, to make connections between New Street, Moor Street, Snow Hill and Curzon Street as seamless as possible.  The Urban Growth Company and the West Midlands Combined Authority  are steaming ahead to transform Birmingham International Station into a fully integrated transport exchange – linked to the new HS2 Interchange Station in Solihull.
Ensuring access to the HS2 East Midlands Hub at Toton is more complex, and we must get it right to make sure as many people in the East Midlands as possible can access affordable rapid mass transit services quickly, and that infrastructure around the station encourages job creation and house building.
Midlands Connect is working with Transport for the East Midlands, HS2 Ltd and local and national delivery bodies to see how road, rail, bus, tram and other more sustainable transport options can best connect the Hub Station with Nottingham, Derby, Leicester and East Midlands Airport. We are delighted that the Department for Transport (DfT) has earmarked a further £1.8 million in development funding to develop these plans further.
Ultimately, we are pressing for HS2 services to run between Birmingham and Toton from 2030, three years earlier than currently planned, with Network Rail services beginning in the late 2020s. This would radically improve connectivity between the East and West Midlands, as well as stimulate the early development of the proposed 'Toton Innovation Campus' which could create up to 11,000 new jobs.
Conventional-compatible services
HS2 will only succeed in rebalancing the economy if people can access services from existing stations too. That's why we're working closely with the DfT to develop a compelling economic case for a conventional-compatible link with the Midland Main Line. This would enable direct HS2 services to run between Leicester and Leeds, cutting the journey time to an hour. Just one train an hour making this journey could add £14 million to the economy every year.
We're also working with Stoke-on-Trent City Council, Staffordshire County Council and the Constellation Partnership to ensure the government holds firm on its commitment to bring conventional-compatible HS2 services to Stafford and Stoke-on-Trent via the West Coast Main Line, whilst at least maintaining existing service levels through places like Lichfield, Tamworth and Coventry. The Constellation Partnership, a collaboration of seven local authorities and two LEPs in Staffordshire and Cheshire, is clear that HS2 connectivity is essential to its vision of delivering 100,000 homes and 120,000 jobs by 2040.
Regional consensus, national backing
There is a growing trust in, commitment to and enthusiasm for the economic opportunities presented by HS2, not just for big centres like London, Birmingham and Manchester but for the ambitious towns and cities in between.
The government has already committed £300 million to improve connections to HS2 services, but it mustn't stop there. Midlands Connect forms an essential bridge between local decision makers, central government and national delivery bodies like Network Rail and HS2 Ltd to ensure future investment is targeted towards the infrastructure projects that can have the biggest impact on our economy.
What is now only a vision must become a reality. The East and West Midlands are going to be closer together than ever before – less than 20 minutes apart, using public transport.
Come 2028, I'd love to be able to launch Midlands Connect's latest report from the HS2 East Midlands Hub at Toton, at the gleaming headquarters of a business that's been lured there by the fantastic connectivity it brings.
This is once-in-a-generation opportunity for the Midlands and we absolutely have to be ready.  So it's essential that we work together – for the benefit of businesses, the economy and our constituents.
Midlands Connect is the perfect vehicle to help make that happen.
Midlands Connect will be joining over 70 speakers from across the UK who'll be speaking and presenting about the major opportunities which HS2 will bring and how we can, as an industry, collaborate to drive economic growth. Join us and an expected 1,000 attendees at the HS2 Economic Growth Conference in Birmingham this November.