CaMKOx cities 'need £200m injection into cycling infrastructure'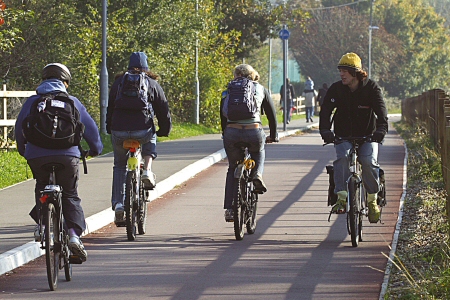 The National Infrastructure Commission (NIC) have published a report which calls for additional funding to be pumped into providing more cycling infrastructure in Cambridge, whilst improving the quality. The city, which the report says could 'seize up' within a focus on cycling infrastructure, could need an injection of an additional £200m for the work which could cut congestion, ease traffic, improvement connectivity and would also bring health benefits to the region.
The NIC commissioned paper, titled 'Running out of road' and undertaken by Andrew Gilligan, examines how cycling could try tackle congestion in Oxford, Milton Keynes and Cambridge – with the cities set to thrive through the unlocked opportunities improved connectivity through rail and a new expressway between the cities will bring.
The paper calls for new bike lanes to be urgently implemented – which could see traffic reduce by up to 15% in the next four years alone if they take these and other measures mentioned in the paper. This would be done through the creation of five new high-quality cycling routes in Oxford and three in Cambridge – with amendments also made to problem junctions and better cycling routes from park-and-ride sites and railway stations.
There is already a huge focus on journeys made by bike within the two cities – with 43% of commuter journeys said to be maid on bike, and the report suggests infrastructure should be reshaped to reflect how people actually travel within the cities – making roads safer for cyclists and pedestrians. Although there is a high quantity of bike users the report highlights the lack of consideration made to cyclists when planning.
Infrastructure is clearly a key enabler to economic growth – something we'll be discussing at the Cambridgeshire and Peterborough Economic Growth Conference later this year – and congestion and barriers for commuters will need addressing in these key cities to unlock and maximise the potential growth they hold.
Andrew Gilligan said of the report: "Without transport improvements, Oxford and Cambridge will seize up. But none of the usual improvements work. New roadbuilding within these cities is impossible. Light rail is expensive and slow to deliver. There isn't even room in the centres of these cities for more buses. But one simple answer is staring Oxford and Cambridge in the face: the bicycle. Getting more people to cycle is the quickest, cheapest and least disruptive way to relieve pressure on their roads."
Milton Keynes is also one of the cities highlighted in the report – which is central to infrastructure which was a focus of the Oxford Cambridge Corridor Economic Growth Conference which saw over 500 attendees discuss the arc corridor. Although 'less pressing' the city could easily end up in a similar situation without cycling infrastructure being integrated into the growth of the city – and the report suggests £10m of funding towards upgrading neglected cycling routes and provide a new city-centre link.
Chief Executive of the NIC, Phil Graham, said: "Creating thriving and liveable communities supported by the right infrastructure is essential to safeguard the prosperity of one of the most economically important regions in the country. Maintaining its global lead in science and technology means retaining the brightest and best and providing them with new places to live and accessible routes to work. This report highlights the important role cycling could play in connecting communities. We hope local leaders consider its recommendations as part of their development of an integrated transport strategy for the arc."
We're sure it'll be a real focus of the Cambridgeshire & Peterborough Development Plans Conference later this year.