"Disappointment" aired due to lack of emphasis on "blue and green infrastructure" in major UK infrastructure project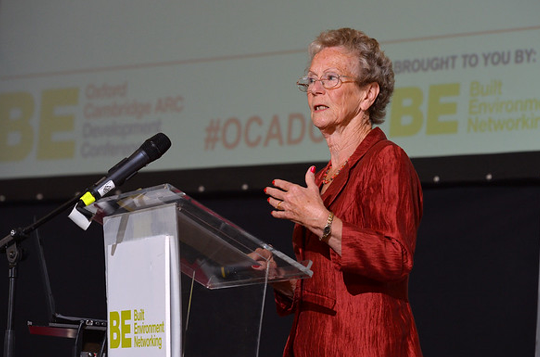 Jane Hamilton, Chair of the Bedford & Milton Keynes Waterway Trust, has told our event that she is "disappointed" about the lack of emphasis on "blue and green" infrastructure, like waterways and parks, in the Arc's plans.
Speaking at our Oxford Cambridge Arc Development Conference she said: "We've heard a lot about the Expressway and east-west rail, which are essential to underpin investment across the Arc, but so is green and blue infrastructure."
Comparing the £1.2m, earmarked by the Department for Environment, Food and Rural Affairs for the Arc's environmental infrastructure to the far larger sums being invested in road and rail "says it all", she added.
"What really matters is how the place feels to the people who live there and that depends to a large extent on access to water and green space," the former Milton Keynes Chief Planner said, referring to recently published research, showing that a couple of hours spent in green space has a "huge impact" on peoples' mental health.
"If people don't understand that, developments won't work."
As an example of how green infrastructure could be integrated, Hamilton pointed to how the network of parks originally designed to help Milton Keynes' cope with its drainage problems were now "major assets" for the town.
She said that "upfront" investment, combined with "very strategic" planning had been key in delivering this infrastructure.
In his presentation, Peter Horrocks CBE Chair of South East Midlands LEP, said that sustainability must underpin the Arc's planning: "Zero carbon locations could be the way of getting people behind the Arc."
He highlighted a project in Corby supported by his body to create a zero fuel bills homes – and whilst admitting the scheme "is not quite there yet" the project has achieved fuel bill savings of 15%.
He also said that consultation on rebuilding the Bedford to Cambridge section of the new east-west rail route and the Expressway road is due to take place in the autumn.