An Exclusive Q&A from Homes for Scotland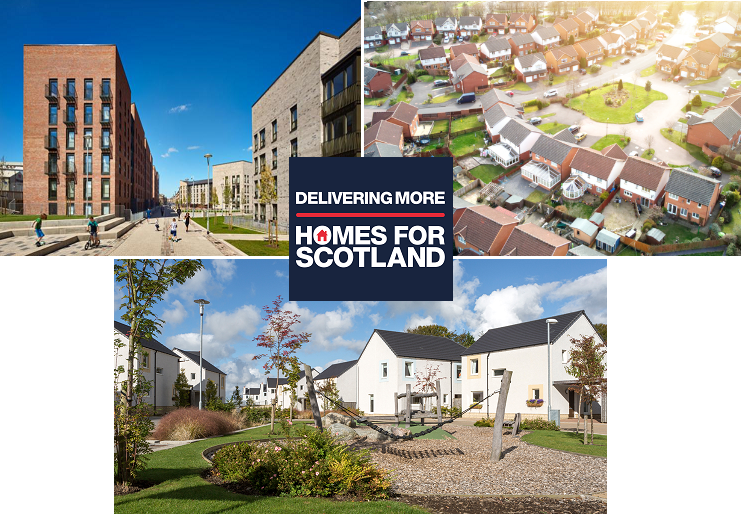 To drive economic growth across Scotland one major issue needs to be tackled – the lack of housing across the country. Homes for Scotland represent 95% of all housebuilders across the coutnry, creating one unified voice which can tackle the challenges, create opportunities and help accelerate housing delivery.
Ahead of their participation in the Scotland Development Conference supported by the Scottish Government, we hear exclusively from Nicola Barclay – Chief Executive of Homes for Scotland – about new forms of development including PRS and modular, the challenges facing the industry and what opportunities lie within the country…
Nicola, you're set to speak at the Scotland Development Conference to reveal the phenomenal work Homes for Scotland are doing. You're the voice for the housebuilding industry within Scotland, so tell us a little about the organisation and the companies you represent?
Homes for Scotland's wide-ranging membership of c200 organisations spans the breadth and depth of the housing sector and includes smaller niche developers, Registered Social Landlords, larger private home builders, PLCS and associates in the wider supply chain. Together they provide the vast majority of all new homes built in Scotland.
What is the current marketplace looking like in Scotland – is it thriving, and are the housing targets being hit?
There was a very welcome 15 per cent increase in the total number of new homes built in Scotland in 2018 but this still remains over 20 per cent below pre-recession levels. Demand therefore remains extremely strong. In terms of housing targets, in Scotland this is only set for affordable housing and is something we would like to see extended across all sectors.
There have been a variety of housing types which have seen a surge recently – built to rent being one of them. What trends are you seeing in Scotland?
As part of a wider market approach across all tenures, expanding the supply of purpose-built private homes for rent is crucial to ensuring Scotland has enough homes. Having led a research project on how BTR can be expanded in Scotland, it is encouraging to see such development now coming through. However, in terms of affordability, social and mid market rent are equally important, as is supporting those who aspire to home ownership.
One of your aims is to create the right conditions to enable the home building industry to significantly contribute to Scotland's social, environmental and economic success. What are those conditions?
Home building is an extremely lengthy, complicated and costly process involving numerous interconnected factors, but the following are key to delivering the homes Scotland needs:
The availability of sufficient land, allocated where people want to live.
An efficient and collaborative planning system which I know the Scottish Government will discuss in more detail at the Scotland Development Conference
A smooth model for the delivery of utilities to site
A clear and simple model for delivering infrastructure
A growing SME sector
An increased, skilled workforce
General acceptance of the need for housing growth and development
Representing 200 organisations across the country you clearly have a massive insight into the current conditions – what are the main challenges facing the industry?
The main challenges facing the industry in Scotland revolve around the planning system, the drop in the number of SME builders since the financial crisis, skill shortages, infrastructure delivery, utilities and public perception. Crucially, however, Scotland must remain an attractive place to invest in comparison to the rest of the UK.
And what are the biggest opportunities?
The undersupply of housing in Scotland means that the market here is fundamentally robust. Affordability issues are also less pronounced than across other parts of the UK. Demand is high for good quality homes and we are working closely with the Scottish Government to make sure any barriers are minimised.
Modular and offsite manufacturing is seen as a major opportunity to accelerate the development of new homes – are you seeing a large uptake of this in Scotland and is there a desire from local authorities to use offsite methods?
We can't speak for local authorities but developers are using more pre-fabricated components than ever before (eg timber kit), with some exploring more advanced forms of offsite construction to address skills and quality challenges. Some of those attending at the Scotland Development Conference are leading the way in that front. Having undertaken a major project into the mainstreaming of modern methods of construction for the Scottish Government, our research shows that barriers are cost, programming and supply chain capacity.
There seems to have been a change in the way new homes are delivering, with a higher focus on placemaking, creating sustainable communities which integrate seamlessly into the existing community. What would you say are the most important things when developing new communities?
The involvement of existing communities and engagement beyond the NIMBY lobby are key. Using visualisation tools will help people better understand plans and spelling out the benefits of new development will help address opposition.  Fundamentally, we absolutely need to put people at the heart of the process. As our annual awards demonstrated earlier this year, such a focus can deliver tangible results across a wide range of areas including customer satisfaction and quality as well as placemaking.
The Scotland Development Conference is set to bring together senior professionals from across the built environment industry to discuss the biggest topics challenging the construction and property industry, and also unlock the opportunities across the country. Why is it an important date in the industry calendar?
Ensuring we have the homes required to meet the needs and aspirations of Scotland's growing population is fundamental to our country's social well-being and economic success but this necessitates joined-up thinking across a number of areas such as infrastructure investment, planning reform and placemaking. The Scotland Development Conference offers a rare opportunity for discussion in this context.
Homes for Scotland are just one of over 30 speakers at the Scotland Development Conference, which will see over 300 key decision makers from Scotland's biggest construction and property firms gather in Edinburgh.