'Time Out' market to anchor Waterloo tunnel revamp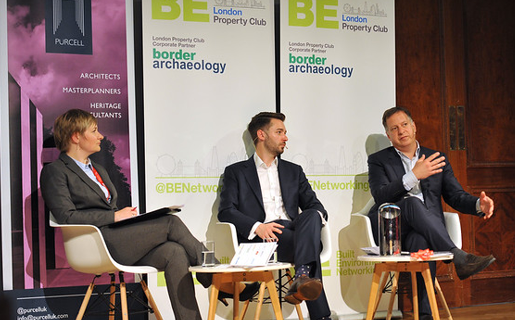 'Time Out' is bringing its food hall concept to London for the first time in currently disused tunnels underneath Waterloo station, our London Property Club event has heard.
The company, which began life the publisher of London's main entertainment listings magazine, operates Time Out Markets in a number of foreign cities, having pioneered the concept in Lisbon.
Cllr Matthew Bennett, Lambeth Council's Cabinet Member for Planning, Investment and New Homes told the event that London's first 'Time Out Market' would anchor a 130,000 sq ft retail development that LCR is creating in the arches that line the tunnels.

Other schemes in the South Bank pipeline include HB Reavis' plans to redevelop Elizabeth House, the former offices of the Department for Education, next to Waterloo's entrance.
Boasting 1m sq ft of floorspace, he said this "one of the largest" commercial developments in London and will feature more cycle spaces than specified in the Greater London Authority's standards.
And the Czech-based developer has engaged 'positively 'with a policy in Lambeth's emerging local plan to ensure that larger commercial schemes in the borough contain affordable workspace for local businesses and start-ups, he said.
Bennett pointed to the recent opening in Brixton of the largest affordable workspace in the country as an example of "sustainable and inclusive growth". The jobs created within such developments could have a ripple effect because the couple of people they employ initially may grow to 100 within a decade, he added.
Bennett also highlighted development plans around St Thomas Hospital where the Royal Brompton is moving to from its existing premises in the west London Borough of Kensington to create a "huge concentration of medical expertise" at Waterloo.
And the Guy's and St Thomas' Charity is redeveloping a 5.5-acre site in Royal Street site, adjoining the hospital, to create 1m sq ft of mixed use.
The scheme, which Stanhope has been appointed to development manage, involves the removal of two old office buildings, some "tired" Sixties housing and a city farm, which is occupying the site on a 'meanwhile use' basis.
And at the roundabout, which contains London's IMAX cinema, Bennett outlined plans to create a new public square in front of Waterloo station by closing one side of the existing three to four lane gyratory system to traffic.
The plan could dramatically improve the public realm surrounding the roundabout making it easier to navigate for pedestrians, who are often forced to cross it by using the underpasses that criss-cross the site, he said: "When you come out of Waterloo, you would not be confronted with roads but a square with access to public spaces on the South Bank."
The Imax roundabout project is part of a broader effort to make the wider South Bank neighbourhood more pedestrian and cyclist friendly, the south London borough councillor said: "We are looking at turning into more inviting space for pedestrians so they feel part of a well-designed and integrated place."
He also said that Lambeth would continue to back tall buildings in appropriate locations while stressing that the borough doesn't want to see "towers popping up everywhere".
He said: "The green belt is not being touched so the only way is up but the way that is handled has to be sensitive. Clusters make sense rather than towers amid two to three storey housing. The South Bank is constantly changing, the question is how to curate it."
Basil Demeroutis, of the Fore Partnership, said it is submitting plans for its latest redevelopment project, a building behind Tower Bridge Road that it acquired last summer.
The building was sold originally with the intention of rebuilding a 12-storey office. Instead Fore will carry out a back to frame refurbishment and extension, creating about 110,000 sq ft of grade A office space. He said that the materials used in the ground floor would use materials that reflect the neighbouring Shad Thames development.