Leicester Development Plans
Wednesday, 31st October 2018 @ 1530hrs

-

1900hrs
The City Rooms, Leicester
Leicester Development Plans | Event
Speakers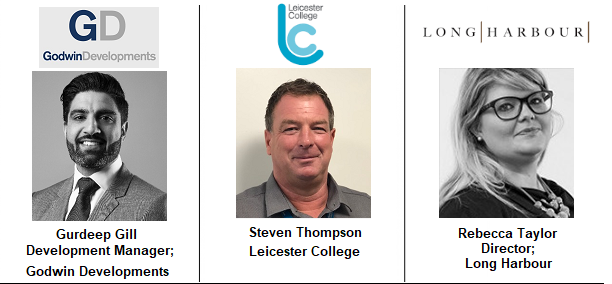 We'll be joined by some fantastic speakers in Leicester who'll provide an abundance of market intel and outline the development plans for some of the regions biggest projects. Discussions and presentations from the speakers will include an overview of their ongoing projects and future development plans aimed at driving economic growth, job opportunities, available housing and more within Leicester and the East Midlands region, including the expansion of East Midlands Airport, the development zones highlighted by the Council, how Universities and Colleges are contributing to the economic success of the region and how they'll be improving their estates to mirror that, and much more.
Conference Partnership Packages

VIP Dinner Tickets

A unique opportunity to spend quality time after the event with the speakers. Take discussions about projects and schemes, procurement opportunities and networking with decision makers into a more relaxed and open setting. The evening meal includes a formal discussion around key regional topics in the industry – accompanied by good food, wine and excellent company. Attendees include:
Steve Thompson – Leicester College
Louise Seymour – Leicester City Council
Gurdeep Gill – Godwin Developments
Rebecca Taylor – Long Harbour
Philip Morris – University of Leicester
Other Companies: Balfour Beatty, E.ON, Arup, This Land, Malcolm Hollis
VIP Dinner Ticket Privileges:
Attendance at the VIP Speakers Dinner
Attendance at the Evening Conference
VIP name badges
Guaranteed tickets at sold-out events
Maximum of two VIP tickets per company. Only 15 VIP tickets available per event. Dinner venue The White Peacock.
Conference Overview
There are a lot of positive conversations happening in the East Midlands city of Leicester and we're delighted to be heading back there in October for this conference. There's a real focus on developments around the waterside with five major schemes set to transform neglected sites. Residential projects are also another key opportunity for development, with the Council highlighting 270 potential sites for housing development. Collaboration will be key to unlocking the economic opportunities to accelerate the need for employment land and housing and we're delighted to be hearing from some of the key stakeholders within the region's construction and property industry to discuss their plans further including:
Louise Seymour; Head of Development Projects at Leicester City Council. Her team facilitate and deliver a range of capital development projects within the City and she'll be talking about the directly delivered Council projects ongoing and planned for the future and how development partners can get involved. One of the large projects she and her team are working on currently is the Waterside Regeneration scheme whilst they're also looking for new development partners to work with them on future development projects.
Karen Smart; Chief Executive Officer at East Midlands Airport. The Airport has huge growth ambitious, and with the Government recently announcing their support for the expansion of more regional airports there is a real opportunity for East Midlands. Infrastructure will be key and HS2 and other projects will unlock massive opportunities for the Airport to import/export more goods and boost passenger numbers and they'll be discussing their vision and plans for the future.
Philip Morris; Operations Manager at Space Park Leicester – University of Leicester. The £80m Space Park Leicester will be a world-leading hub for space and space-enabled industry created over 9.3acres. The project is being brought forward by the University of Leicester, alongside the National Space Centre, Leicestershire LEP and Leicester City Council – and it could help create 2,500 new jobs and boost the regional economy by £715m.
Steven Thompson, Head of Apprenticeships at Leicester College. Steven will be representing the College and sharing details of their future plans for the higher education institution – as they look at increasing student numbers and contributing to the economic success of the city.
Rebecca Taylor; Director at Long Harbour. Long Harbour, the alternative real estate asset manager, has exchanged contracts with the Sowden Group to deliver 297 homes for rent on the site adjacent to the Highcross car park in Vaughan Way in the centre of Leicester. Rebecca Taylor will tell us more about this scheme and their other activities in the East Mids and UK.
Gurdeep Gill; Development Manager at Godwin Developments. They're currently growing their development portfolio, reputation and business with a flood of new developments – with 'The Landmark' one key project in the East Midlands along with other commercial and residential schemes both ongoing and planned. They'll be giving an overview of those schemes whilst looking to engage with the audience on future potential schemes and how they can work alongside the supply chain.
Event Format
1530 – 1600; Registration
1600 – 1645; Networking with Wine, Beer and Soft Drinks
1645 – 1815; Speaker Presentations
1815 – 1900; Networking with Hot Food, Wine, Beer and Soft Drinks
1930 – 2200; After Event Speakers Dinner (VIP TICKET HOLDERS ONLY)
Leicester Development Plans | Details