Midlands Development Conference
May 23 @ 0800hrs

-

1700hrs
Ricoh Arena, Coventry
Midlands Development Conference | Event
CONFERENCE OVERVIEW
The inaugural Midlands Development Conference will bring together over 300 leaders from the property, development, infrastructure and construction industries to maximise the phenomenal opportunities currently engulfing the Midlands. With a major focus on infrastructure connecting cities and towns the Midlands is set to see an unprecedented level of investment, development and regeneration – and to fully maximise the opportunities this presents a collaborative and aligned approach is needed across the industry. This new conference will be a platform to promote such collaboration, as we hear from those at the forefront of the Midlands future vision, alongside expert views from leading figures from across the industry and major developers who're set to bring exciting new schemes to the fore as the Midlands continues to become one of the UK's most desirable regions to live, work and invest. Those involved include…

The event represents a unique opportunity to take the pulse of the development and construction sectors, and to share exclusive insights on future development plans and connect with professionals who're all looking to invest, develop or work within the Midlands to drive economic growth.
IT'S A MUST ATTEND CONFERENCE!
The conference will see:
300+ Delegates.
30+ VIP Speakers.
15+ Exhibitors.
PROGRAMME & SPEAKERS
Through a series of exceptional panel discussions and gripping presentations we'll uncover new insights from those at the forefront of the future vision for the Midlands, whilst hearing about new opportunities, major new development zones and schemes, exclusive insights from the regions leading figures, and procurement details on how firms can get involved in potential schemes.
Opening with keynote speeches from two influential figures we'll soon delve into the phenomenal opportunities which the Midlands offer, hearing exactly how the Midlands Engine and a collaborative approach will be crucial to delivering the desired outcomes. We'll hear similar discussions and presentations from leading investors, housebuilders, local authorities, infrastructure providers and more to hear their future plans – including development and regeneration pipelines – with an open audience led Q&A throughout the sessions allowing audience members to ask questions from the floor. Our sessions during the event include:
Keynote Speeches
The Midlands; The Engine & Collaboration
HS2; How Major Infrastructure is Driving Development
Infrastructure; It's Role in Linking Communities & Placemaking
LEP's; Their Role in The Future Vision
Universities; Future Estates Development & Supporting Growth
Placemaking; Developers & Housing Providers
CLICK HERE TO SEE THE FULL PROGRAMME & SPEAKERS
PARTNERSHIP OPPORTUNITIES
Our partnership opportunities with enable you to reap the rewards of being centre stage at the conference whilst removing the usual barriers to key decision makers and influential figures within the industry. As an event partner you'll boost your organisation's profile, influence industry debate and make exclusive connections with the most senior figures within the Midlands.
Midlands Development Conference | Programme
Schedule of Keynote Talks, Presentations & Sessions:
08:00-09:00

Breakfast & Networking

09:00-09:30

Keynotes

House of Lords UK 2070 Commission; Lord Bob Kerslake
Impact Hub; Immy Kaur, Chief Executive

09:30-10:15

The Midlands; The Engine and collaboration

Our first session will focus on the need to have a unified Midlands – and collaborative working across the region and with both the public and private sector will be crucial in helping the Midlands realise its potential.
Birmingham City Council; Dawn Baxendale, Chief Executive Officer
Nottingham City Council; David Bishop, Deputy Chief Executive Officer
Shropshire Council; Tim Smith, Head of Business Enterprise & Commercial Services

Coventry City Council;

Martin Reeves, Chief Executive 




Worcester City Council;

Andrew Round, Executive Director of Place

East Midlands Councils;

Andrew Pritchard, Chair

10:15-10:30

Break & Networking

10:30-10:45

Keynote

Midlands Connect;

Maria Machancoses, Director

10:45-11:45

HS2; How infrastructure will drive development

With three stations planned within the Midlands (Solihull, Birmingham and Toton) HS2 is set to be an enabler to growth – and we'll be hearing from those hubs and how HS2 will unlock huge areas of development land which will be turning into thriving employment zones and communities. 

Chair; PBA – now part of Stantec

Birmingham City Council; James Betjemann, Head of Enterprise Zone & Curzon Delivery
Urban Growth Company; Jonathan Bretherton, Managing Director
Toton Delivery Board; Cllr Kay Cutts, Chair

Speaker 4 – TBC

11:45-12:00

Break & Networking

12:00-12:45

Infrastructure; Linking communities and placemaking

Major infrastructure projects are planned across the Midlands which will complement HS2 – from new, improved and more frequent rail routes, to new roads, potential airport expansions, and much more. We'll be hearing about how these schemes will be designed to integrate into both existing and new community developments, aiding connectivity across the region and boosting productivity and economic growth. 

Chair; WSP

Transport for the West Midlands; Anne Shaw, Director – Network Resilience
Canal & River Trust; Adnan Saif, Director – West Midlands

Speaker 3 – TBC

Speaker 4 – TBC

12:45-13:15

Lunch & Networking

13:15-14:15

Local Enterprise Partnerships; Their role in the future vision

Leading figures from a number of high profile LEP's will talk about their role within the future vision for the Midlands and how they'll be looking to both benefits from and have input into the economic growth plans for the region. 
Coventry & Warwickshire LEP; Andy Williams, Director of Business, Investment & Culture
D2N2 LEP; Sajeeda Rose, Chief Executive
Worcestershire LEP; Gary Woodman, Chief Executive
Greater Birmingham & Solihull LEP; Katie Trout, Chief Executive Officer

14:15-14:30

Break & Networking

14:30-15:15

Universities; Estate Plan & Supporting growth

Higher education institutions play a crucial role in driving growth across the Midlands, and we'll hear about their plans as they continue to grow and expand. From major campus expansions to collaborative partnerships with regional blue chip firms – we'll hear about the future vision via a series of presentations.
University of Derby; Judith Lamie, Pro Vice-Chancellor – External Affairs
Nottingham Trent University; Prof Nigel Wright, Deputy Vice-Chancellor – Research & Innovation
Coventry University; Prof Ian Marshall, Deputy Vice Chancellor
University of Leicester / Space Park; Grant Bourhill, Interim Director – Research & Enterprise
Aston University; Mark Smith, Executive Director – Business Engagement

15:15-15:30

Break & Networking

15:30-16:30

Placemaking; Housebuilders & developers

Leading providers of homes and major developers within the region will talk about the best way to approach planning, design and management of open spaces due to the spurt of development and growth expected across the region. 

Miller Birch; 

Mark Bielby, Development Director

Bruntwood; 

Rob Valentine, Director

Sladen Estates;

Rachel Wood, Development Director

Harworth Group; 

David Cockroft, Regional Director – Midlands

Kier Property; 

Tom Gilman, Managing Director

Avison Young;

Carl Potter, Managing Director

West Midlands Combined Authority; Patricia Willoughby, Head of Policy

16:30-17:00

Conference Close & Networking
Midlands Development Conference | Exhibitors
This unique conference will bring together the public and private sector to facilitate discussions and connections to try and drive and accelerate the delivery of development, regeneration, investment and growth in the Midlands. There will be plenty of exhibitors showcasing their brand and best practice in the industry, whilst helping them reap the rewards of being prominently displayed within the events exhibition area in front of some key and influential business leaders.

Exhibiting will allow you to:
Meet 300+ delegates face to face
Be part of the inaugural Midlands Development Conference
Be known as a market leader within this sector
Network with hundreds of your business clients and peers
Showcase your work to regional and local authorities, major developers, universities, housebuilders and more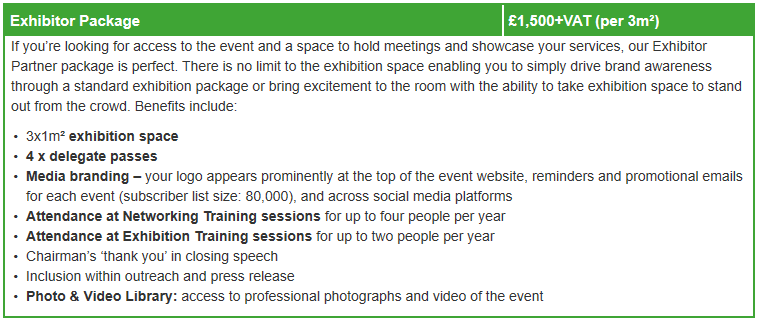 Confirmed Exhibitors:

If you're interested in exhibiting at the conference then get in touch with our team:
Email: keith.griffiths@built-environment-networking.com
Midlands Development Conference | Become a Partner
Associate your brand with the Midlands Development Conference and position your brand at the forefront of one of the UK's biggest discussions and debates about economic growth, development and regeneration within the Midlands.
| Package | Exhibition Stand | Chair/Speaking Opportunity | Tickets | VIP Backstage Access | Cost (+VAT) | |
| --- | --- | --- | --- | --- | --- | --- |
| Conference Partner | Yes | Yes | 15 | Yes | £10,000 | View More Details |
| Session Partner | Yes | Yes | 10 | Yes | £5,000 | View More Details |
| Output Report Partner | Yes | - | 8 | - | £5,000 | Sold Out |
| Programme Partner | Yes | - | 10 | - | £3,500 | View More Details |
| VIP Dinner Partner | - | Yes | 2 | Yes | £3,500 | View More Details |
| Breakfast Partner | Yes | - | 5 | - | £2,500 | View More Details |
| Lunch Partner | Yes | - | 5 | - | £2,500 | Sold Out |
| Badge Partner | Yes | - | 5 | - | £2,500 | View More Details |
| Email Partner | Yes | - | 5 | - | £2,500 | View More Details |
| Registration Partner | Yes | - | 5 | - | £1,750 | View More Details |
| Exhibitor Package | Yes | - | 4 | - | £1,500 | View More Details |
We have various partnership packages available, including packages with speaking opportunities and huge exhibition space large enough to promote your business, allowing you to address your whole target audience for maximum brand awareness and impact. Our partnership packages will put you at the forefront of the industry discussion allowing you to be there, be active and be an expert within the construction and property sector, the future vision for the Midlands and the whole built environment industry.
Become a Partner
If you're interested in any of the packages above or if you're interested in finding out additional information then contact us on:
0113 390 4700
keith.griffiths@built-environment-networking.com
Midlands Development Conference | Details