Oxford Cambridge Corridor Economic Growth Conference 2018
Thursday, 21st June 2018 @ 0745hrs

-

1645hrs
Doubletree Hilton, MK Dons Stadium, Milton Keynes,

Stadium Way,

MK1 1ST
Oxford Cambridge Corridor Economic Growth Conference 2018 | Event
CONFERENCE OVERVIEW
The Oxford Cambridge Corridor Economic Growth Conference in association with Bouygues Energies & Services will be a day of discussion and opportunity with the region's business and public sector leaders coming together to discuss and debate the key business themes and opportunities for growth.
The corridor represents a phenomenal opportunity for economic growth and will build on the work that has been undertaken by the National Infrastructure Commission and Economic Heartland and showcase and develop the opportunities that are being created by the proposed road and rail links that will link the two cities and unite the cities and towns between them. The long awaited East West transport links will not only improve connectivity and communication but it will provide the infrastructure to drive economic development and growth.
England's Economic Heartland Strategic Alliance is providing a single, joined up voice to Government on all the infrastructure needs, from roads and rail to broadband and utilities.
The National Infrastructure Commission believes the area could support a further 700,000 jobs by 2050, increasing GVA by £163bn
A population of over 3.5 million and over 175,000 business together generate around £92.5 billion GVA. We have a 21st century economy, particularly rich in high value engineering, science, technology and research and most of these firms are small or medium sized enterprise with many based in rural or semi-rural areas
This event is supported by The National Infrastructure Commission and England's Economic heartland and will attract in excess of 450 people that are all keen to explore the business opportunities that this corridor presents.
SPEAKERS INCLUDE: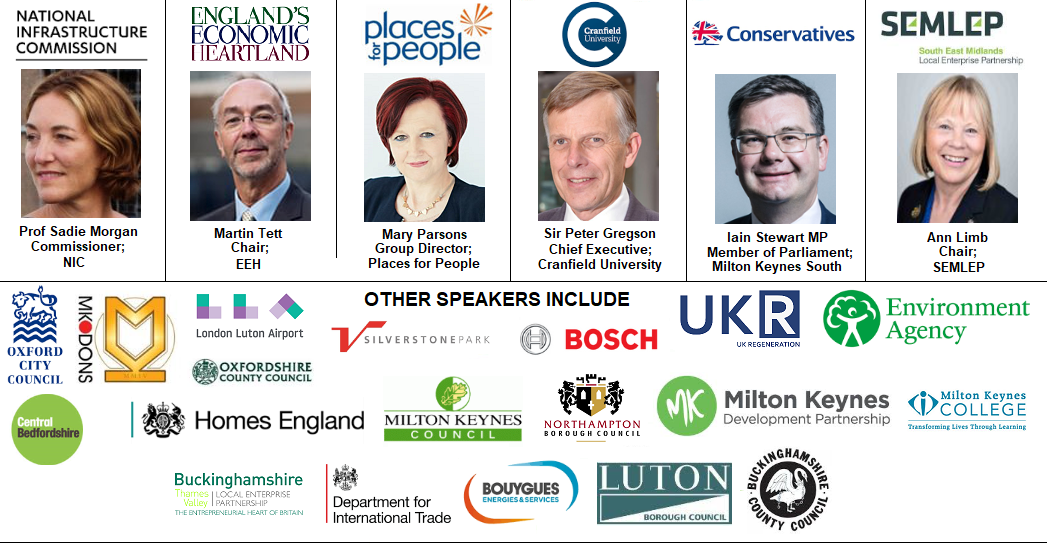 The conference will hear keynotes from public and private sector leaders before panel discussions take place to focus on the key areas and topics on the corridor development. We're delighted to have the support of the National Infrastructure Commission, England's Economic Heartland, regional authorities and more.
To view the list of all the confirmed speakers for the conference click HERE.
PARTNERSHIP PACKAGES
Position your brand at the forefront of the Ox-MK-Cam Corridor in front of senior business leaders and industry professionals through partnership.
View the partnership opportunities available HERE.
PROGRAMME
The conference will include various networking periods, keynotes from influential business leaders, panel discussions on the key topics the ensure opportunities are highlighted and various workshops. We'll be looking at:
Industrial Strategy – how do we build a Britain that is fit for the future, and how do we utilise new technologies to ensure that we capitalise on the opportunities the ARC Corridor will bring?
Skills – how do we develop the skills for the future to ensure the economy can grow, and what skills are they?
Housing – how do we deliver housing targets and free up more space?
Infrastructure – what is the transport strategy and how do we develop it to drive economic growth whilst becoming more energy efficient?
Economy – how will we deliver the Strategic Economic Plan and grow the economy around the corridor through the improved connectivity?
View the full programme and conference agenda HERE.
Oxford Cambridge Corridor Economic Growth Conference 2018 | Programme
0745 – 0830

Breakfast & Registration

0830 – 0930

Session 1 Keynote Speakers

Welcome by Phil Laycock & Hannah O'Neill, Deputy Leader, Milton Keynes Council

Keynote 1


Professor Sadie Morgan, Commissioner, National Infrastructure Commission

CONFIRMED

Keynote 2


Martin Tett, Leader, Buckinghamshire County Council & Chairman, England's Economic Heartland

CONFIRMED

Keynote 3
Iain Stewart MP, Milton Keynes South & Oxford-MK-Cambridge Corridor All-Party Parliamentary Group

CONFIRMED

Keynote 4
Matt Fitzpatrick, Sales Director, Bouygues Energies & Services Corporate Partner

CONFIRMED

0930 – 1000

Coffee Break

1000 – 1100

Session 2: Industrial Strategy

Chair: Helen Wylde, Chief Engagement Officer, Transport Systems Catapult
Jonathan Nunn, Leader, Northampton Borough Council

CONFIRMED

Roz Bird, Commercial Director, Silverstone Park & Chair of the Silverstone Technology Cluster

CONFIRMED

Gordon Mitchell, Chief Executive, Oxford City Council

CONFIRMED

Sue Halliwell, Director for Planning & Place, Oxfordshire County Council

CONFIRMED

James Jamieson, Leader, Central Bedfordshire Council

CONFIRMED

1100 – 1145

Coffee Break

1110 – 1140

Workshop 1 Land Aid

1145 – 1230

Session 3: Skills

Chair: Janet Miller, Chief Executive Officer, MOLA
Professor Rebecca Bunting, Vice Chancellor, Buckinghamshire New University & Chair, Bucks Skills Hub

CONFIRMED

Dr Julie Mills, Principal & Chief Executive, Milton Keynes College

CONFIRMED

Sir Peter Gregson, Chief Executive & Vice Chancellor, Cranfield University

CONFIRMED

Nigel Tipple, Chief Executive, OXLEP

CONFIRMED

Jo Lancaster, Managing Director, Huntingdonshire District Council

CONFIRMED

1230 – 1315

Lunch

1315 – 1400

Session 4: Housing

Chair: Julia Foster, Managing Partner, David Lock Associates
Mary Parsons, Group Director, Places for People

CONFIRMED

Richard Harrington,

Chief Executive, Buckinghamshire Thames Valley LEP

CONFIRMED

Adrian Brown, Managing Director, Berkeley Strategic

CONFIRMED

Paul Kitson, General Manager, South East, Homes England

CONFIRMED

Harvey Griffiths,

Chief Executive, Housing Infrastructure Fund

CONFIRMED

1400 – 1445

Coffee Break

1410 – 1440

Workshop 2 Martin Tugwell, Economic Heartland

1445 – 1530

Session 5: Infrastructure

Chair: Clare Wildfire, Projects Director, Mott MacDonald
Laura Church,

Luton Airport & Luton Borough Council

CONFIRMED

Paul Burrows,

Flood & Coastal Risk Manager for East Anglia Area, Environment Agency

CONFIRMED

Satish Luhar,

Joint Author, Oxford MK Cambs Corridor Report, National Infrastructure Commission

CONFIRMED

Sheryl French, Programme Director, Mobilising Local Energy Investment, Cambridge County Council

CONFIRMED

Duncan Sharkey, Corporate Director for Place, Milton Keynes Council

CONFIRMED

1530 – 1545

Coffee

1545 – 1630

Session 6: Inclusive Economic Growth

Chair: Phil Laycock, Director, Built Environment Networking
Eman Martin-Vignerte,

Director, Robert Bosch

CONFIRMED

John Cove,

Director, MK Dons & Chair, MK Dons Sport & Education Trust

, MK Dons

CONFIRMED

Naisha Polaine, Deputy Director of Projects – Regeneration & Infrastructure, Department for International Trade

CONFIRMED

Jason Longhurst, Chairman, UK Business Council for Sustainable Development (UK BCSD)

CONFIRMED

Hilary Chipping, Chief Executive, SEMLEP

CONFIRMED

1630 – 1645

Conference Summary

– Phil Laycock
Oxford Cambridge Corridor Economic Growth Conference 2018 | Exhibition
Why Exhibit?
Meet around 300 delegates face to face
Be part of the biggest business event in Oxford & Cambridge
Network with hundreds of your business clients and peers
Show your support to the Combined Authority and the LEP
Costs
A 3m2 space costs £1,500 plus VAT
The exhibition area is a space only due to the venue logistics.
Four delegate passes are included with each stand
We have a limited amount of stand space available at this event – so please book early to avoid disappointment.
Oxford Cambridge Corridor Economic Growth Conference 2018 | Details