West Yorkshire Economic Growth Conference
Tuesday, 18th September 2018 @ 0745hrs

-

1645hrs
New Dock, Leeds,

Armouries Dr,

LS10 1LT
West Yorkshire Economic Growth Conference | Event
The West Yorkshire Economic Growth Conference was a must-attend conference which focused on making development and regeneration projects happen to drive economic growth! We discussed the key business themes and opportunities for growth, whilst hearing from those at the forefront of such schemes. Our incredibly well received panels discussed and presented about their ongoing plans, revealing insights and future schemes set to take place across West Yorkshire. It's a truly exciting time for the region and this conference put together the key decision makers and senior leaders from the industry to drive growth! We'll be hosting the event again in 2019 – details for the conference can be found here. 
Thanks to those who attended the West Yorkshire Conference and supported the event. We saw:
350+ Delegates.
35+ VIP Speakers.
25+ Exhibitors.
Thanks to our speakers:





If you want to find out more about our event in Leeds then why not download our free conference output report – highlighting some of the key topics and discussions from the day. This can be downloaded for free.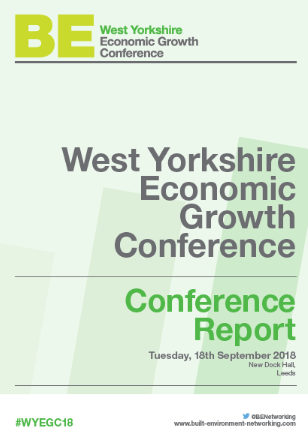 West Yorkshire Economic Growth Conference | Programme
0800 – 0900Breakfast & Registration0900 – 0930Keynote Speakers
Keynote 1
Cllr Susan Hinchcliffe, Leader, West Yorkshire Combined Authority

Keynote 2
Sean Jarvis, Commercial Director, Huddersfield Town
Keynote 3
Tom Younger, Cities Lead – North of England, Uber
0930 – 1015Northern Powerhouse
5 key leaders in West Yorkshire discuss and answer your questions about the regions input into the Northern Powerhouse and what the region gets out of it
Chair: Prof Colin Bamford, Emeritus Professor, University of Huddersfield
Cllr Judith Blake, Leader, Leeds City Council
Tom Younger, Cities Lead – North of England, Uber
Neil Dewis, Director of Business Transformation, Yorkshire Water 
Henri Murison, Director, Northern Powerhouse Partnership 
James Goodyear, Director of Policy and Partnerships, Leeds Teaching Hospitals NHS Trust 
1015 – 1045Break & Networking
1045 – 1145Developers
5 leading developments are presenting their plans on the contribution they are making to West Yorkshire economic growth
Chair: Phil Laycock, Director, Built Environment Networking
Gary Hetherington, Chief Executive, Leeds CF & A Co Ltd, Leeds Rhinos & Yorkshire Carnegie 
Karen Lythe, Assistant Director for Economy, Housing & Investment, Calderdale Council 
Ed Ellerington, Director, Palmer Capital
Thomas Weldon, Regional Director, Henry Boot Developments
1145 – 1200Break & Networking
1200 – 1300Housing
Presentations from 5 leading housing developers/builders showing the impact their projects are having on economic growth
Chair: Chris Calvert, Executive Director, Pegasus
Jenny Purple, Senior Strategic Land Manager, Avant Homes
Sue Shirt, Executive Director, Stonewater 
Shabir Pandor, Kirklees Big Build
Andrew Weaver, Chief Executive, Strata Homes 
Stewart Thomson, Land & Partnerships Manager, Keepmoat Homes 
1300 – 1330Lunch & Networking
1330 – 1430Infrastructure
The major developments in infrastructure are presented – these are key to West Yorkshire
Chair: Naz Parkar, Director of Housing, Kirklees Council
Angela Barnicle, Chief Officer for Economic Development, Leeds City Council 
Phil Forster, Head of External Affairs, Leeds Bradford Airport 
Matt Rice, Principal Strategic Planner, Network Rail 
Barry White, Chief Executive, Transport for the North
1430 – 1445Break & Networking
1445 – 1545Universities & Colleges
A chance to learn how leading educational organisations are leading the economic growth in the region and what the future holds for their estates and property portfolios
Chair: Tom Riordan, Chief Executive, Leeds City Council
Prof. Margaret House, Vice-Chancellor, Leeds Trinity University
Prof. Liz Towns-Andrews, 3M Prof of Innovation on and Director of Research and Enterprise, University of Huddersfield 
Prof. Lisa Roberts, Deputy Vice-Chancellor, University of Leeds 
Colin Booth, Principal & Chief Executive, Leeds City College 
Kelly McAllister,Head of Business Development, Bradford College 
1545 – 1600Break & Networking
1600 – 1630Question Time & Summary
A chance to evaluate and give perspective to the day's key topics
Chair: Cllr Tim Swift, Leader, Calderdale Council
Jacqui Gedman, Chief Executive, Kirklees Council
Lorna Pimlott, Director of Sponsorship & Policy, Phase 2, HS2 
Shelagh O'Neill, Director of Economy & Development, Bradford Metropolitan District Council 
Steve Harris, Regional Director for Yorkshire, Lloyds Banking Group 
Pete Massey, Director for the North, Arts Council
1630 – 1645Conference Summary; Phil Laycock
West Yorkshire Economic Growth Conference | Exhibition
Thanks to all of our exhibitors at the West Yorkshire Economic Growth Conference!
West Yorkshire Economic Growth Conference | Attendees
Thanks to the hundreds of companies who attended our conference including:
ABS Ltd
Adept Consulting Engineers
Adlington
ADP Architects
Aedis
AHR Architects
Airco
Altrad
Amey
AMP Capital
Apleona Workspace
Applebridge Construction
Arcadis
ARP Geotechnical
Arts Council England
Arup
Ascend Properties
Avant Homes
Balfour Beatty
BAM Nuttall
Bardsley Construction
BECG
BDP
Bidwells
Biogenie Site Remediation
Bouygues Energies & Services
Bradford College Group
Breheny Civil Engineering
Brentwood Consulting Engineers
Britcon
British Library
Built Environment Networking
BuroHappold
Buttress Architects
BWB Consulting
CAD21
Calderdale Council
CAPD
Carter Jonas
CBRE
Celtic Technologies
CITB
City Fibre
City of Bradford Metropolitan District Council
Clark Drain Ltd
Colas
Craven District Council
Crawford Surveying Services
Datscha UK
David Phillips Group
DDA Ltd
Delta Simmons
Desco
DevoConnect
DS Emotion
Ecology Consultancy
Ekosgen
Engie
Environmental Reclamation Services
Eric Wright Construction
ESH Construction
E.ON
Excel Redstone
Faithful+Gould
FHP Property Consultants
FSH Group
Galliford Try
GHD
Gillespies
GRAHAM Construction
Halifax Bank
Headland Archaeology
Henry Boot Developments
HKA
Hoare Lea
HS2 Ltd
Huddersfield Examiner
Huddersfield Town FC
Hydrock
I & G
Imtech
InCommunities
Indigo Planning
Insider Magazine
International Fire Consultants (IFC Group)
Jackson Civil Engineering Group
Jacobs
JF Finnegan
JNP Group
JPG
Keepmoat Homes
Kelder Group
Kew Green Hotels
Kirklees Big Build
Kirklees Council
Leeds Bradford Airport
Leeds City Council
Langley Waterproofing Systems
Leeds City Region Enterprise Partnership
Leeds Live
Leeds Rhinos & Yorkshire Carnegie
Lexington Communications
Lichfields
Lincolnshire County Council
Lloyds Banking Group
Lovell Group
Lupton Fawcett
MAC Construction Consulting
Maccaferri
Mace
MadeTelevision
Malcolm Hollis
Marshalls
MC2
Midel
Morgan Sindall
Morris & Spottiswood
Mott MacDonald
National Federation of Builders
Network Rail
North Midland Construction
Northern Powerhouse Partnership
Opus
Page Park Architects
Palmer Capital
Paragon Interiors
Pegasus Group
Peter Brett Associates
Planning Potential
PolkeyCollins Associates
Portakabin
PWC
Ramboll
Record UK
Restore Harrow Green
Rider Levett Bucknall
Robertson Group
RSK
RSM Consulting
Ryder Architecture
Sanderson Weatherall
Scape Group
Schofield Sweeney
SCP
Selby District Council
SES Engineering Services
SLR Consulting
Social Communications
Spencer Group
Strata Homes
Squire Patton Boggs
Stonewater
Sweco
Tarmac
The Banks Group
The Leeds Teaching Hospitals NHS Trust
Thomasons
Together Group
Transport for the North
Trustmgt
Tower Hotel Management
Turley
Turner & Townsend
UBER
University of Leeds
University of Huddersfield
Vectos
VHE
VINCI Construction
VolkerLaser
Wakefield Council
Walker Morris
Wardell Armstrong
Waterhouse
Waterman Group
Wates Group
Weightmans LLP
West Yorkshire Combined Authority
Willmott Dixon
Womble Bond Dickinson
WSP
WYG
Yorkshire Evening Post
Yorkshire Universities
Yorkshire Water
West Yorkshire Economic Growth Conference | Details