Arora Group move £14bn Heathrow bid forward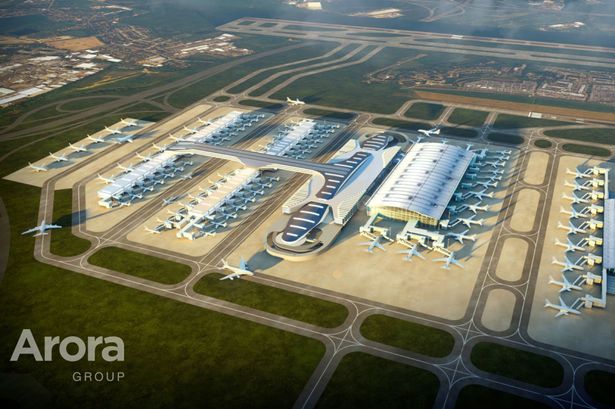 The Arora Group, headed up by hotel tycoon Surinder Arora, are set to bid for the £14.4bn development of Heathrow Airport's Third Terminal. The airport expansion, which was officially agreed in June, already has a planning application from Heathrow Airports Limited (HAL) however the rivalled proposals 'could save up to £6.7bn when compared to the costs of Heathrow Airport Limited's own plans' according to the Arora Group – who're set to speak at the Heathrow Development Plans Conference on the 1st November.
The Arora Group, the largest landowner in and around the airport, have highlighted several key areas on why they believe their rival bid should be both considered and accepted. The overall Heathrow expansion will up the capacity of the airport from 78m a year to 130m passengers a year. According to their website their plans will offer:

A £1.7bn saving to the terminal design and taxi way system which would be preferred by airlines if it was reworked, and also would maintain the same rise in runway and terminal capacity.
Terminal 2 expansion is not seen as necessary for the overall expansion of Heathrow and removing this from plans would save an additional £1.1bn
Not building the £1bn passenger transit system for airside passengers, branding it unnecessary while airlines believe it is not needed for their passengers.
Improvements to parking proposals and reducing the site area by 20% – which significantly reduces demolition and groundworks required, the cost of the scheme would be reduced in total by £5.2bn without significant amendments to the Government's North West Runway plans.
Further £1.5bn in savings can be found in addition to the £5.2bn by avoiding the M25 construction project which is more than just a financial issue as it creates almost a decade of major inconvenience to commuters on the UK's busiest motorway, totalling £6.7bn savings. This would mean the runway starting 500m east of the M25 which has been separately modelled by Bechtel.
Surinder Arora, who'll be speaking at the Heathrow Development Plans Conference, said: "We want passengers to be at the heart of our plans and the current monopoly at Heathrow, which over-charges airlines and in turn raises fares for passengers, is not the right model for the future. Heathrow needs competition and innovation which puts passengers and airlines at the heart of the expansion project. We have brought together some of the world's leading experts in infrastructure and aviation to develop the proposals that we have submitted to the Government. In addition, our own advisory board brings in unparalleled experience including former British Airways CEO Sir Rod Eddington."
Tickets for the Heathrow Development Plans Conference start at £87 and can be purchased here.