Major Birmingham City Centre Scheme Tipped for Go Ahead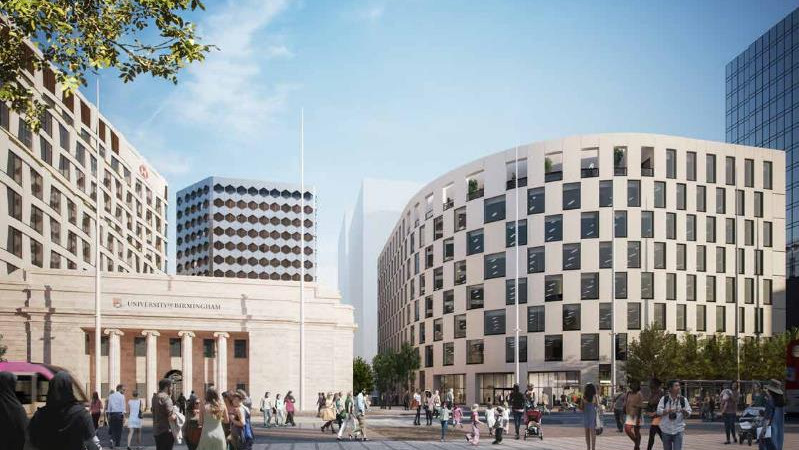 Plans for the next phase of a major commercial scheme in Birmingham city centre, which would create more than 1,300 jobs, have been recommended for approval.  Arena Central Developments, who are behind the project are speaking at the upcoming Birmingham Development Plans.
The 5 Centenary Square project would front Broad Street and include 170,100 sq ft of office space. The whole scheme would have 225,086 sq ft of space.
According to planning documents, the building would rise to nine storeys and also include a roof-top terrace and 68 car parking spaces. Construction would take two years.
Work is already underway on the public realm of the site, and a 250-bed Holiday Inn Express Hotel.
Designed by Make Architects, the plans were revealed in August.
Birmingham City Council's planning committee is set to make a decision on the application at a meeting on Thursday 7 November.
The phase is the third of the Arena Central scheme which would follow on from 1 Centenary Square and 3 Arena Central.
The new application was submitted by Arena Central Developments LLP.
A council document published ahead of the meeting said: "In principle, redevelopment of this site for offices is consistent with the previous reserved matters consent and masterplan.
"It is also consistent with local and national planning policy. Furthermore the scheme would help to bring to bring forward significant economic benefits by providing grade A office space to accommodate growth in the financial and professional services sector.
"The proposal accords with the position, scale and form of the long term agreed masterplan for arena central.
"In 2014, planning consent was granted for this same building (then known as 1 Arena Central) at eight storeys high, following a reserved matters application under the outline masterplan consent.
"While the building is now one storey taller, the design principles remain unchanged from the 2014 consented scheme.
"This building would also complete the frontage of Arena Central facing Centenary Square and act as the northern gateway to the 'Serpentine' pedestrian route through the site. Whilst there have been changes to the development plan since 2014 and the building is slightly taller, the premise that this scheme is acceptable remains.
"There would be a minimal level of impact of traffic on the highway from this proposal and the level of car parking is well below the maximum guideline."