Exclusive Q&A from Nottingham Trent University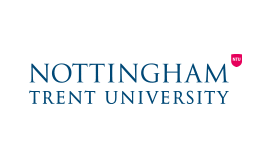 The property, development, infrastructure and construction industries are set to come together on the 23rd May at the Midlands Development Conference with one thing in mind – driving growth within the economy.
Nottingham Trent University is one of two major higher education institutions in the city of Nottingham, and the 13th largest in the UK. Tell us a little about yourselves and the role you play within the region?

NTU has its origins in the Nottingham Government School of Design established in 1843 to support local manufacturers, and close working with business and the professions characterises the work of the University today. It is one of the UK's largest universities with nearly 32,000 students and more than 4,000 staff located across four campuses. We estimate that the University contributes £900m to the UK economy every year. While we are a truly global university with 3000 international students from over 100 countries, we have a strategic aim to support social, cultural and economic development in the local economy. We also have a strong commitment to social mobility and our success in attracting and educating students from families who have not benefitted from higher education, has been recognised by our recent award as Guardian University of the Year 2019. The University is one of the largest providers of support to SME businesses and through our comprehensive "start up … to scale up" offer we engage with around 900 businesses a year. We also invest significantly in the innovation and enterprise infrastructure of Nottingham. We co-own BioCity, which is the UK's largest bioscience incubator and innovation centre, and Antenna the creative and digital business hub and co-working space. Through The Hive, we have pioneered student and graduate enterprise. Businesses started by The Hive turn over in excess of £20m in the local economy each year. Next year we will open our new Enterprise and Innovation Centre on the City Campus, which we be a front door to businesses who wish to work more closely with the University. Construction will also begin soon on our new dual-site Medical Technologies Innovation Facility which will be based at our Clifton Campus and on the Boots Enterprise Zone.
You've invested over £350m across all campuses over the past 10 years alone. What schemes are you most proud of, and what impact have they had on the local economy?
Over the past ten years the University's estate has been transformed, which not only benefits our local students, but also provides important facilities for businesses and the community and has significantly improved the public realm in the City. We have been pleased to work with leading architects and construction experts to bring new life into historical buildings, utilising the latest materials and construction methods which support our sustainable development goals. It is difficult to point to favourite schemes, but the magnificent Newton-Arkwright buildings are particularly striking and they provide a focal point to the City Campus. The development links the former college building , built in 1877-81 on Shakespeare Street, with its gothic gables, arches and pinnacles, to the iconic art deco-styled Newton Building constructed in Portland Stone in 1956-58 ; a splendid example of mid-century architecture. Our pavilion building at the Clifton campus is a favourite too, for its modern and light-filled space that creates a special meeting place for students and staff at the heart of the campus. The pavilion is a multi-award-winning development that won the "Buildings that Inspire" category, in the Guardian University Awards.
You currently have a couple of estate developments ongoing – what is in the pipeline, and what does the future hold for your campuses. Do you have more projects yet to be announced that you're looking into?
Our current major development is at our Brackenhurst Campus, where our School of Animal Rural and Environmental Sciences is based. The 206 hectare rural campus is located near Southwell and fifteen miles from Nottingham and is home to world-leading research and teaching in agriculture, animal science, veterinary nursing, and environmental sciences. At the centre of the campus, Brackenhurst Hall is a Grade II listed country house and the birthplace of WWI General, Edmund Allenby. Once the Nottinghamshire School of Agriculture, the campus lacked a reception area and larger teaching spaces. The Brackenhurst development will create a brand new flagship Reception and Environment Centre. The Centre will provide world-class teaching, learning and research spaces for geography, environmental science, ecology and conservation courses. It will also contain a new café, a 200-seat lecture theatre, and exhibition spaces. We are currently completing phase two of our refurbishment of a former Wesleyan Chapel on Shakespeare Street, which opened last year as a new home for our graduation ceremonies. Work is currently underway to create a contemporary music centre at the rear of the building, which will provide dance and music studios as well as a dining facility and a green living wall. As one of the most popular universities in the UK, we are always reviewing our estate. One of the next developments under consideration is to bring the School of Arts and Humanities into the City to join our other arts and creative industry courses and facilities.
Come and join us at our Midlands Development Conference on the 23d of May >
For those within the construction and property industry interested in working alongside Nottingham Trent University, how do you approach your procurement, and what values and ethics must companies interested in working with you have?
Our procurement mission is simple: to deliver goods and services to the University that are value for money, sustainable and legally compliant. We work with suppliers, big and small, who share that ambition and make sure that the procurement process is as simple as possible. We use the SCoRE process to align our procurement process to the aims and ethics of the University. SCoRE stands for Sustainability, Commercial Effectiveness, Research and Employability. SCoRE offers more ways to win business and moves the University away from procurement on price alone to cost-to-value principles. Through a Supplier Forum, we work very closely with our suppliers to help them understand the broader work and goals of the University. Our web page contains details of SCoRE and information for businesses seeking to provide goods and services to the University. https://www.ntu.ac.uk/business-and-employers/procurement/how-to-do-business-with-ntu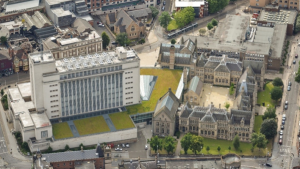 The university were recently ranked as the 5th most sustainable university in the world for the second year running. Has this always been a focus of the university, and how are you continuing that focus on sustainability?
Sustainability has been important to the University for many years and we have a dedicated Sustainability Team. In our strategic plan we make a commitment to be recognised as a leading exemplar of an environmentally responsible and sustainable organisation. We are currently ranked 3rd for sustainability in the UK by the People and Planet University League and 5th globally in the UI Green metric. We are very proud of our world-class campuses, complete with green spaces, sustainable building and transport infrastructure. Our new pavilion building at the Clifton campus is a carbon-negative building creating more energy than it consumes. My colleague, Deputy Vice-Chancellor Professor Eunice Simmonds won the Green Gown Award for leadership and NTU was awarded the Green Gown for employability. Our staff and students can also benefit through our fleet of 200 bikes for hire and a food share allotment. We are very pleased to that our academic expertise has supported sustainable development in the Nottingham through our partnership with Nottingham City Council in the EU Remourban project. This ground-breaking programme has supported the creation of a low temperature district heating demonstrator which will heat 96 homes, which is the first installation of this kind in the UK. Remourban has also supported the insulation of 400 inner city houses of different ages and architectural styles and the creation of an ultra-low energy demonstrator of 9 homes that require virtually no heating.
HS2 is set to be a major driver of development and regeneration across the UK. What impact will it have on Nottingham from your viewpoint, and what impact will that have on the university?
The creation of a high-speed rail link to Nottingham will have significant benefits for the region. It is important that HS2 not only better connects Nottingham to London, but also London to us. With our partner universities in Nottingham and Derby, we are committed to exploring how we create new innovation and business facilities close to the station that will attract businesses from the South East to the East Midlands. We are also working closely with the East Midlands Development Corporation to promote the development opportunities across the region including the area around East Midlands Airport, the SUGRO logistics park and the Ratcliffe-on–Soar power station site. Beyond HS2, we believe it is vital to create better cross-country rail connections, as advocated by Midlands Connect. Many of our staff and students commute some distance to work and study at the University and greater cross-regional connectivity would be a major boon for the University and the local economy.
Alongside HS2 there are many other projects happening both in the city centre and across the East Midlands – with unprecedented growth set to happen over the coming years. Is this going to entice more and more students to be retained by the region, and what work do you think needs to be done to boost retention?
Nottingham is a great place to live and work but there is more that we can do to support graduate retention. We work very closely with local businesses to understand their skills needs and to promote placements, internships and employment opportunities to our students. We often have funding available to support graduate placements and provide additional support to companies who have struggled to attract graduate talent. The University recruits approximately 80% of its students from outside the local area and we attract significant numbers of students from London and the South East.  Therefore, after their studies many of our graduate will return to their home towns. Nottingham provides a vibrant and broad cultural offer that appeals to graduates, but our infrastructure must meet the needs of early career professionals and particularly those with young families and one of the critical areas here is affordable housing and the quality of schools and education.  
Nottingham Trent Universities will be joined by over 300 other public and private sector firms at the Midlands Development Conference including: Midlands Connect, UK2070 Commission, Impact Hub, Birmingham City Council, Nottingham City Council, Nottinghamshire County Council, Toton Delivery Board, University of Leicester, Space Park Leicester, Greater Birmingham & Solihull LEP, Shropshire Council, Worcester City Council, Worcestershire LEP, Coventry City Council, East Midlands Council, PBA, Avison Young, Harworth Group, Miller Group, Transport for the West Midlands, West Midlands Combined Authority, University of Derby, Aston University, Coventry University, Canal & River Trust, WSP, D2N2 LEP, Urban Growth Company, Coventry & Warwickshire LEP, Miller Birch, Bruntwood, Sladen Estates, Kier Property. Click here to register >