Essex & South East Development Plans
November 12 @ 1530hrs

-

1900hrs
Essex County Cricket Club,

Chelmsford

,
Essex & South East Development Plans | Event
We're excited to be back in Chelmsford where we'll once again bring 150+ senior professionals from across the built environment industry together for an evening of networking, knowledge sharing and an exclusive insight into future development projects planned across the region. With its close proximity to London it's clear to see why the region is attractive for investors and developers and they, along with the public sector, will be speaking to share intel into their proposed projects including…
North Essex Garden Communities (NEGC Ltd) is owned by a collaborative group of local authorities which will see the creation of three garden villages with more than 43,000 new homes.
Legal & General Affordable Homes who've just got underway with four sites but are actively seeking land within Essex and the surrounding region for new sustainable housing schemes.
Chelmsford City Council's new Local Plan which is set to be adopted this year. They'll share intel on the future projects proposed including high-tech employment zones, a new town and more.
CHP have 15 development sites in the pipeline or under construction as they accelerate their housing delivery to meet the regional needs and they'll talk about work opportunities and future plans.
Essex County Council play a vital role across the region and they'll be outlining their ambitious for the region and how firms can get involved.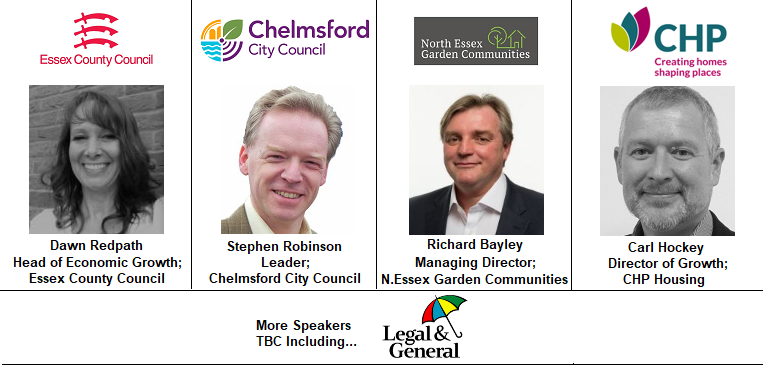 As London continues to grow, prices continue to rise, and the surrounding regions are becoming more and more attractive for people to live and work, whilst also being attractive for investors and developers. With a strong collaborative approach amongst local and regional authorities the area is set up nicely to see a major transformation through regeneration and development, and those in the know about the proposed projects and plans will all be in attendance at this event. Come and find out how your company can get involved in this must-attend event.
Book Now >
Event Format
1530 – 1600; Registration
1600 – 1645; Networking with Wine, Beer and Soft Drinks
1645 – 1815; Speaker Presentations
1815 – 1900; Networking with Hot Food, Wine, Beer and Soft Drinks
1930 – 2200; VIP Speakers' Dinner
Book Now >
After Event VIP Dinner Tickets

A unique opportunity to spend quality time after the event with the speakers. Take discussions about projects and schemes, procurement opportunities and networking with decision makers into a more relaxed and open setting. The evening meal includes a formal discussion around key regional topics in the industry – accompanied by good food, wine and excellent company.
Other Companies Attending: Perfect Circle, FRAME, Watkins Gray
Maximum of two VIP tickets per company. Only 15 VIP tickets available per event. Dinner venue: The New London.
Book Now >
Conference Partnership Packages
Our partnership opportunities will enable you to maximise your attendance at the conference – from VIP access to speak one-on-one with the speakers, to getting maximum brand awareness to boost brand advocacy and loyalty within the region. Be at the forefront of the event and showcase your brand in front of the industry's biggest names and influencers. Packages available include:


Essex & South East Development Plans | Details