Hertfordshire Development Plans
Monday, 13th May 2019 @ 1530hrs

-

1900hrs
Holiday Inn, Stevenage,
Hertfordshire Development Plans | Event
Speakers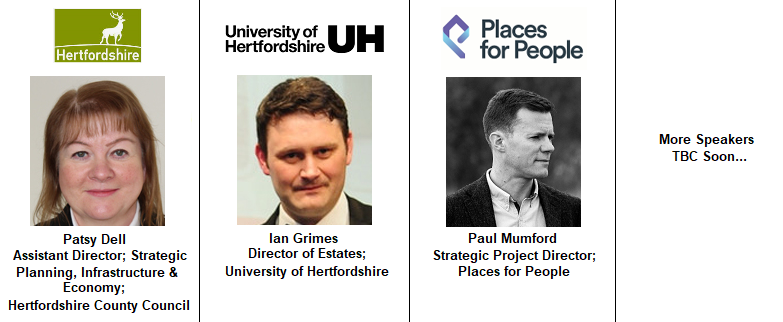 We'll be joined by over 120 construction and property professionals in Stevenage for our next conference – where we're set to hear about major new developments happening across the region. The regions around Hertfordshire are seeing an unprecedented level of investment and development and the region is strategically placed to benefit from massive new projects. We'll be gathering key decision makers and senior professionals to hear from some exceptional speakers in Stevenage who're at the forefront of the exciting developments happening in Hertfordshire – with exclusive information on schemes set to be shared including:
Fresh insight into the University of Hertfordshire's future campus expansion plans
Discover procurement opportunities at the 8,500 home new community development by Places for People
Be involved in the major infrastructure projects proposed by Hertfordshire Council across the region or the massive development zones they'll unlock
Conference Partnership Packages

VIP Dinner Tickets

A unique opportunity to spend quality time after the event with the speakers. Take discussions about projects and schemes, procurement opportunities and networking with decision makers into a more relaxed and open setting. The evening meal includes a formal discussion around key regional topics in the industry – accompanied by good food, wine and excellent company. Attendees include:
University of Hertfordshire
Places for People 
Other Companies Attending: Balfour Beatty, Gallagher, Willmott Dixon, Morgan Sindall, Wates, Total Flow, Border Archaeology, Chelgate
VIP Dinner Ticket Privileges:
Attendance at the VIP Speakers' Dinner
Attendance at the Evening Conference
VIP name badges
Guaranteed tickets at sold-out events
Maximum of two VIP tickets per company. Only 15 VIP tickets available per event. Dinner venue: Holiday Inn, Stevenage. 
Conference Overview
There is no doubt that Hertfordshire is strategically placed to benefit hugely from schemes happening across the UK. Its proximity to London has always been a key asset, it'll be at the heart of the new proposed infrastructure arc between Oxford-Cambridge, and it has strong infrastructure links to the wider UK network. Therefore it's no surprise that Hertfordshire is gearing up for growth. The 11 councils which make up Hertfordshire are planning to deliver 100,000 new homes by 2031, and a comprehensive region-wide study is underway to discover the investment needed into transport, infrastructure, schools, healthcare and more – and with a spurt of new job opportunities set to arise from major development zones across the region it's an exciting period to be working in Hertfordshire. We'll be hearing from some of those central to the future plans, and hearing about their own major schemes and projects including:
Ian Grimes; Director of Estates at the University of Hertfordshire. The last 10 years have seen ambitious investment and growth in the University's campus – but the next decade promises much more. The University is coming to the end of its 2020 Estates Vision – and with that comes the opportunity to look at the next 10-15 years, and Ian will be sharing details of what the future holds and how you can get involved.
Paul Mumford; Strategic Project Director at Places for People. They're one of the largest property and leisure management, development and regeneration companies in the UK – managing 150,000+ homes, and Hertfordshire is a region they continue to look for work in. One of their current developments is Gilston Park Estate, part of the Harlow & Gilston Garden Town, which is set for 8,500 new homes and the complementary services and amenities needed such as education, leisure and health facilities. Paul will talk about the new town and how to get involved as they continue their procurement process.
Patsy Dell; Assistant Director for Strategic Planning, Infrastructure and Economy at Hertfordshire County Council. The major Gilston Park Estate project is at the forefront of schemes, and their leading bids to unlocking crucial infrastructure – with a bid recently made for £150m+ to the HIF. That will need to massive infrastructure projects, and many other development zones and sites being freed up, and Patsy will share details ahead of this exciting period of growth for Hertfordshire.
We expect to be in a position to announce additional speakers shortly.
Event Format
1530 – 1600; Registration
1600 – 1645; Networking with Wine, Beer and Soft Drinks
1645 – 1815; Speaker Presentations
1815 – 1900; Networking with Hot Food, Wine, Beer and Soft Drinks
1930 – 2200; After-Event Speakers' Dinner (VIP Ticket Holders Only)
Hertfordshire Development Plans | Sponsors
Conference Partnership Packages
Sponsoring our events enables you to be at the forefront of the regional discussion into the biggest projects across the region. That's why Willmott Dixon, Morgan Sindall, Border Archaeology, Gallagher and Hadham have already taken advantage of these opportunities. Packages still available include:

Hertfordshire Development Plans | Attendees
The leading construction and property firms are going to be joining us in Stevenage for this once a year event. Here are just a few of those set to attend the event:
AECOM
AKSWard
AKT II
AMCM Group
Ankor Property Group
Artelia UK
ARUP
Axis Land Partnerships
Ardent
Atkins
Balfour Beatty
Barhale
Barton Willmore
Baxi UK Heating
BE1 Architects
Bond Bryan Architects
Border Archaeology
Brasier Freeth
BMJ Architects
BRE
calfordseaden
Chelgate
CIOB
Conisbee
Coverdale Barclay
Cratus Communications
Curl la Tourelle + Head
Curtins Consulting
DLP Planning
Edgington Spink + Hyne
Elementa Consulting
Engie
Erith Group
Fairhurst
Gallagher
Glanville Consultants
Ground Technology Services
Hadham Construction
Hertfordshire County Council
Imtech Engineering Services
International Fire Consultants (IFC Group)
Kier
Landvest Developments
Lungfish Architects
Lungfish Architects
Mackley Construction
LK Group
McLaughlin & Harvey
Meeting Place Communications
Mills & Reeve
MLM Group
Morgan Sindall
Morgan Sindall Investments
Network Homes
NFB
Novus Property Solutions
NPS London
Newforma
OOBE Landscape Architects
PAGABO
PBA now part of Stantec
Pellings
Perfect Circle
Perrin Myddelton
Pick Everard
Places for People
R G Carter
Rock Townsend Architects
Royal HaskoningDHV
RSK ADAS
RSK
Senior Property Associates
Shield Environmental Services
Square Feet Architects
Stewart Milne Group
Stonewater
Switch2
Shaw Trust
Saunders Boston
Terrain Surveys
Turner & Townsend
University of Hertfordshire
Vinci Construction
Volker Fitzpatrick
Wardell Armstrong
Wates
Willmott Dixon
Wilson Mason Architecture + Interior Design
WSP
WYG
Hertfordshire Development Plans | Details