Oxford Development Plans
November 18 @ 1530hrs

-

1900hrs
The Town Hall, Oxford,

St Aldate's,

OX1 1BX
Oxford Development Plans | Event
Oxfordshire is set to see unprecedented growth and development over the coming years – and our events are always a great way of getting the most up-to-date information and inside intel on future development projects, whilst networking with the most senior professionals from across the industry to swap business cards, forge new relationships and strengthen existing ones. Over 150 people will once again join us in Oxford Town Hall, where we'll be hearing from some exceptional speakers including…
Insight into Oxford City Council's strategic masterplan as they look to aid growth, unlock development sites and partner with firms to deliver new projects
Book Now >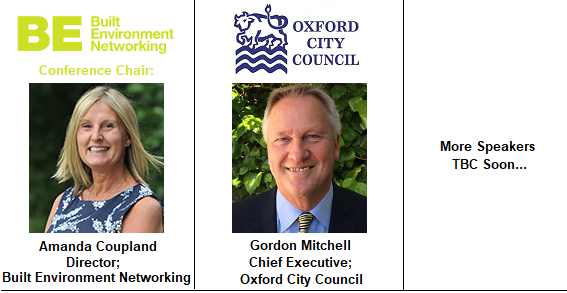 As the economy continues to thrive in Oxfordshire, out pacing much of the UK, there is always going to be a desire to live, work, develop and invest in the region. Our event will once again be crucial in connecting the key stakeholders together who can make new development and regeneration happen – with the biggest names from the public and private sectors all in attendance. During this event you'll enjoy hours of networking, alongside speaker presentations, audience-led Q&A, time to speak one-on-one with the speakers and more. Come and hear about the future development projects planned in the region and understand where your firm can win new business.
Event Format
1530 – 1600; Registration
1600 – 1645; Networking with Wine, Beer and Soft Drinks
1645 – 1815; Speaker Presentations
1815 – 1900; Networking with Hot Food, Wine, Beer and Soft Drinks
1930 – 2200; VIP Speakers' Dinner
After Event VIP Dinner Tickets

A unique opportunity to spend quality time after the event with the speakers. Take discussions about projects and schemes, procurement opportunities and networking with decision makers into a more relaxed and open setting. The evening meal includes a formal discussion around key regional topics in the industry – accompanied by good food, wine and excellent company. Attendees include:
Oxford City Council
Ilke Homes
Other Companies Attending: Perfect Circle, FRAME
Maximum of two VIP tickets per company. Only 15 VIP tickets available per event. Dinner venue: The Old Bank Hotel.
Conference Partnership Packages
Our partnership opportunities will enable you to maximise your attendance at the conference – from VIP access to speak one-on-one with the speakers, to getting maximum brand awareness to boost brand advocacy and loyalty within the region. Be at the forefront of the event and showcase your brand in front of the industry's biggest names and influencers. Packages available include:
VIP Dinner Partner 

Oxford Development Plans | Details